Posted by Ben Golliver.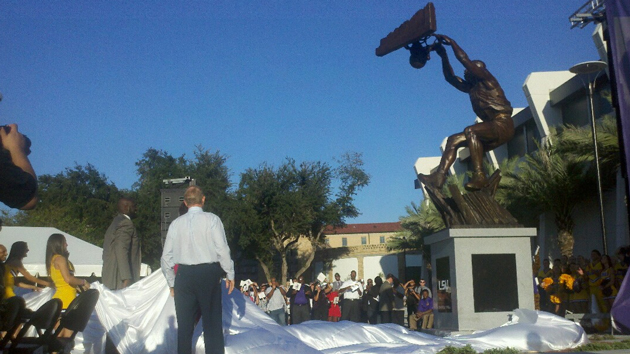 Lousiana State University unveiled a statue honoring former center and NBA great Shaquille O'Neal in a ceremony on Thursday. The statue depicts O'Neal wearing an LSU jersey in his trademark two-hand dunk post and is located in front of the team's practice facility in Baton Rouge, LA.
"That is the best sculpture in the country," O'Neal declared on Thursday,
according to LSU
. "I am very humbled and honored. It could have been a lot of other guys who got a statue."
NOLA.com reports
that the statue weighs 900 pounds. That's roughly twice -- OK, OK, roughly three times -- what O'Neal himself weighs.
O'Neal reportedly nicknamed the statue, "The Big Bronze."
Widely considered one of the most dominant basketball players of all time and a certain first-ballot Naismith Hall of Famer, O'Neal enjoyed a 19-year NBA career, playing for the Orlando
Magic
, Los Angeles
Lakers
, Miami
Heat
, Phoenix
Suns
, Cleveland
Cavaliers
and Boston
Celtics
. He won four rings, played in 15 All-Star games, finished as No. 5 on the NBA's all-time scoring list and reportedly earned
more than $292 million in salary
. He averaged 23.7 points, 10.9 rebounds and 2.3 blocks per game over his career.
Prior to being the No. 1 overall pick in the 1993 NBA Draft, O'Neal spent three dominant seasons at LSU. He averaged 21.6 points and 13.5 rebounds during his college career and was twice named an All-American. He later earned a degree from the school in 2000 and has been inducted into the school's Hall of Fame.
To honor O'Neal, LSU also put together
this awesome highlight reel
of his time as a Tiger. Give it a look.
Prior to the unveiling, the statue was hidden beneath a white sheet in front of a purple and yellow backdrop bearing O'Neal's "Superman" logo. Have a look.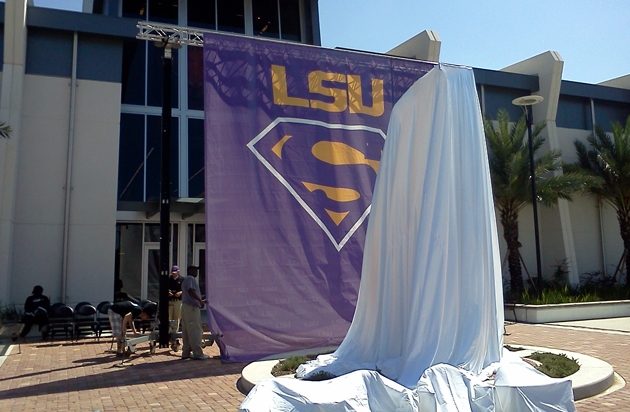 Images via LSU Basketball on Twitter