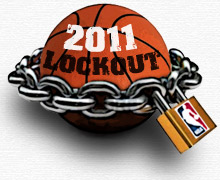 Posted by Royce Young
Preseason games don't matter in a lot of ways. They don't make money, they don't do a lot in terms of tuning up teams. In reality, players and owners probably wouldn't mind if the lockout wiped it out.
Which could be the case.
According to Sporting News
, owners could be willing to give up the preseason entirely.
Stern pointed out on Wednesday that, to save the season, "We have three weeks." Training camp is supposed to start in less than a month. When the NFL was in a lockout, there was an emphasis on saving training camp, but according to a league source, that's not necessarily as important for the NBA. First of all, pro football is a lot more complicated to coach and requires more thorough conditioning. Second, the source said, "Financially, the NFL makes a killing off the preseason. The NBA doesn't. We play in some pretty far-off spots. And our preseason games aren't televised much."
So if it's not a money-making venture, you can bet that there's not a sense of urgency to keep it in place during the negotiations. The major downside is perception and when you start cancelling things, people get anxious. There were reports a few days ago about how cancelling preseason games would alert future advertisers of problems. Which could cost the league money in the long run.
One thing to note though in terms of deadlines: If the NBA's situation isn't resolved soon, players will begin heading off to join the European teams they signed with.
Deron Williams
arrived in Istanbul today, in fact.
But a complicating factor to bear in mind is this: Many players have already committed to playing overseas, and most of those are scheduled to start with their new teams by the end of the month. Most of those contracts have out-clauses allowing players to return to the NBA should the lockout end, but the feeling among both general managers and agents is that, once the international leagues begin play, the pace of negotiations will slow, and probably impinge on the season. "It will be hard to have players go overseas and join a team in late September," one agent told SN, "only to have them turn around and come back in a couple of weeks."
While losing preseason games isn't going to sting a ton, the pressure of getting something done is finally hitting and that's why negotiations are ramping up some. Like Stern said, three weeks. That's the time there is to make something happen before there's a real effect laid out on the players, owners and fans. Owners might be willing to sacrifice the preseason and while I think everyone would be OK living with that, you don't want to make a habit out of it.
Via BDL