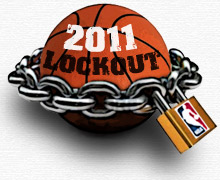 By Matt Moore
This thing has turned so quickly I'm getting motion sickness. In the past 24 hours we've gone from "Well, see you in 2013!" to a complete and total 180 degree turn as everyone rushes to be as optimistic as possible. It's one thing for there to be signs of progress from the meetings. It's another for everyone outside the core group to start lining up movement towards not only a resolution, but an end to the NBA Lockout
on time
.
Let's begin with word from Ken Berger of CBSSports.com:
Among the small circle of figures speaking publicly on the talks, all have adopted the talking point first espoused by commissioner David Stern back in June -- that nothing has been agreed on until everything has been agreed on. To the optimistic mind, this would suggest that some things have been agreed on and nobody's saying so. When queried on whether the Aug. 31 meeting and this week's sudden flurry of talks indicate momentum, NBPA president Derek Fisher admitted, "I guess that would be a fair assumption. But like I said, until we get this deal done, it's tough to try to characterize it or put a read on what means what in terms of on a daily basis."

Until we get this deal done? That shift away from emphasizing the distance between the parties and the efforts to "get this deal done" would seem to indicate that there is a deal to get done. Fisher, whose speech patterns are at once precise and difficult to interpret, also spoke of getting the deal done as though it were a matter of when, not if..
via
Hush-hush labor meeting means there might be progress - NBA - CBSSports.com Basketball
.
There's loads of good news in there, including talk of not talking, which is the best kind of talk. I understand that makes no sense, so let me break it down. Both sides are much more likely to torch the other if things are going badly. There's no fragile progress to harm. On the flip side, this move to not talk about how the meetings are going indicates that there's something they either don't want to harm with criticism or don't want to jeopardize by weakening their respective positions just as things are starting to move forward. If the owners hadn't moved at all, or the players hadn't moved at all, you'd be seeing lots of negative comments from anyone you could find. As of yet, there's nothing but "We've agreed not to talk about it." In this instance, no news is good news.
A good litmus test for how this is
actually
going will be the reaction of agents. In the past few days
there have been
multiple stories
alleging a critical stance of Billy Hunter on the part of agents, which means that agents are freely talking to media about how angry they are Hunter didn't come out firing with decertification and a full-blown legal assault. The players' representatives have been volatile throughout this process, either out of a concern for their clients' well-being and looking to be aggressive or out of a sense of self-preservation, wanting to fight and scrap and claw for every penny, particularly every future penny as opposed to next year's rake. If you begin to read tales of agents talking about how none of this matters, Hunter's still going to have vipers in the den. If all's quiet or if agents start to leak talk ofa season starting, that means the players may have nailed down a concession or two.
But even in the fresh morning dew of Wednesday's talk of progress, we're getting indications that things are headed in a positive direction. Consider the words of
Amar'e Stoudemire
in the
New York Post
:
Stoudemire said the lockout will end "sooner than later." He has arranged a mid-October informal training camp for his mates in Bradenton, Fla., but now isnt sure theyll need it. Training camps are scheduled for Oct. 2."I'm hearing good things about the lockout, that wed be starting sooner than later," Stoudemire said.

"So that [Florida camp] would be offset. Im not sure the change [in negotiating stance], but I do feel better about the fact we may start sooner than later. Thats a positive for us."
via
Knicks
Stoudemire says NBA lockout will end sooner than later - NYPOST.com.
Well, then. Way to keep things close to the vest, there, STAT. Stoudemire being a star who's plugged into the talks (as he stays in close contact with Roger Mason, players' union executive and alleged accidental tweeter) talking positively could indicate substantial progress, since he's a player who stands to lose quite a bit in a rollback of the contract he earned last summer. Then again, it's unlikely he'd be notified of anything concrete about proposals being exchanged, if indeed they are.
Then there's Ira Winderman of the
South Florida Sentinel
, who was asked in a mailbag if he thought an agreement would come this week. While he, along with everyone else, thinks that's going too far, his answer was certainly interesting.
That might be a bit premature. Everything in this process has come down to urgency and deadline. But I do sense that teams, behind the scenes, are putting more energy into organizing camps for a timely start.
via
ASK IRA: Could the lockout be drawing to a close? – Miami
Heat
– Sun-Sentinel.
Teams starting to show any sort of indication that camp could start on time is signficant for several reasons. It would mean that someone is telling them to start making plans in the event the dispute is resolved in time for the season to start. It would mean that they have cause to put effort into such an idea. And it would mean there's more than just talk involved in the progress, that there's actionable progress being made.
All of these things are good things for the league, for the players, for the fans.
To quote "Death Becomes Her," "And now, a warning."
These meetings take on the shape of the last meeting. There are meetings scheduled Thursday and potentially Friday for the tiny group that's made all this progress. If both sides are operating under an assumption regarding something from the other side that comes to light as inaccurate during talks this week, everything hits the breaks and you'll hear the same negativity we've been hearing. All it takes is one snag and we're going to be reading a line in an NBA-less November story about how "talks in early September broke down because..." There's a fragile peace that's allowing this to go forward. If the NLRB levies a pro-players decision, if the insurgent ownership pushing to lose the season to win everything they want regain control of the reins, if someone sneezes in an offensive way, everything goes back. More pressingly, if the agents make another surge towards toppling Hunter, players could follow along and then you've got chaos, which would prevent a deal. I just don't want anyone getting their hopes up. There's no indication of how far apart the two sides are, or if they've even touched the BRI divide. This could be nothing more than media shenanigans. We can only wait and see.
But a depressing trend that has lasted since January and began in earnest last July has suddenly shifted course. We're facing a horizon with the sun for the first time. Now we just have to see if both sides can shock the world and wind up with not even a preseason game lost.
Free agency. Training camp. Preseason. Games. It's within sight. Now we wait to see how much the principles want to get this done and save professional basketball.