Posted by Ben Golliver.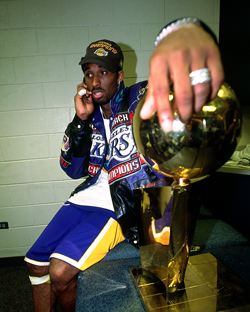 Update (11:17 p.m.)
:
The @KobeBryant account has just been suspended
. Yahoo Sports
reports
that the account was "released prematurely and that "it will return again." More information when it becomes available. The text of this post has been updated from a previous version.
On Wednesday night, Los Angeles
Lakers
All-Star guard
Kobe Bryant
apparently opened an official Twitter account --
@KobeBryant
-- according to his
official Facebook page
and
his website's Twitter account
, which posted
a simple message
: "Welcome Kobe to Twitter" and a link to the account. Within hours, the account disappeared and accessing its page produced an "account suspended" error message.
Nike Basketball's official account
tweeted a welcome message
and linked to the account, too: "Welcome to Twitter, @KobeBryant."
The first and only message
that appeared on the account was posted within an hour of the account being opened. It read: "Can you hear me now?!?!"
The account identified Bryant's location as "Los Angeles," used the words "Los Angeles Lakers" as his biography and included a link to his official homepage:
KB24.com
. The account's icon image was a picture of a snake eating a blue plastic bird or fish behind the words, "Black Mamba is here."
The first people that the @KobeBryant account followed on Twitter included Oprah Winfrey, the rappers Drake, Lil Wayne and Kanye West, New Orleans
Hornets
guard
Chris Paul
, New York
Knicks
forward
Carmelo Anthony
, Miami
Heat
guard
Dwyane Wade
, Orlando
Magic
center
Dwight Howard
, Oklahoma City
Thunder
guard
James Harden
and Major League Baseball players Jimmy Rollins and Albert Pujols.
At 33 years old, Bryant is an elder statesman in the NBA, often competing against players who are a decade or more younger than him. But don't assume that his age will hurt his popularity on the site. Bryant gained more than 6,700 followers in the first hour that the account was open and his Facebook page has more than 10 million likes.
The question now is how high, and how quickly, will his follower count climb when his account is reopened given that he is one of the world's most popular currently active NBA players?
According to WeFollow.com
, Bryant's former teammate with the Los Angeles Lakers, Shaquille O'Neal, led the NBA with the most followers, more than 3.7 million, before he retired earlier this summer. The NBA's official account has more than 2.5 million followers. The official Twitter account for the Lakers boasts more than 2 million followers.
Prior to Bryant, the last long-time, big-name Twitter holdout was Miami Heat All-Star forward
LeBron James
, who joined the social networking site in July 2010, shortly before he announced his decision to leave the Cleveland
Cavaliers
and take his talents to South Beach.
HoopsWorld.com also notes
that the NBA's reigning MVP, Chicago
Bulls
guard
Derrick Rose
, is still not on Twitter.
For comparison's sake, James now has more than 2.4 million followers, Howard has nearly two million, Wade has more than 1.6 million and Oklahoma City Thunder forward
Kevin Durant
has nearly one million.
Hat tip: @Jose3030