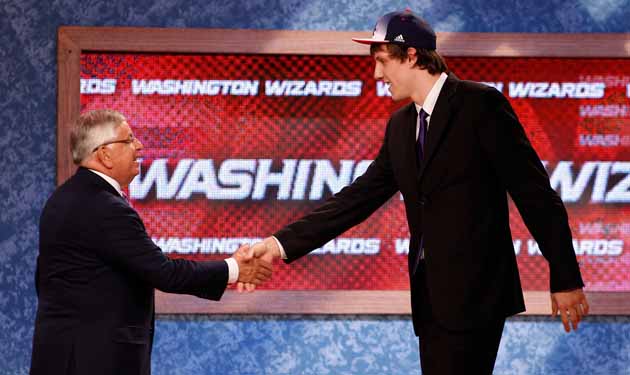 By Matt Moore
There has been talk of a revised draft being discussed in the CBA negotiations for some time. Months ago, reports surfaced from multiple outlets about the union offering a solution for increased competitiveness through granting lottery teams multiple first-round picks. That idea sparked quite a bit of debate. Now Chris Sheridan, formerly of ESPN and hot on the heels of his report of how the two sides aren't that far apart, dropped this little bombshell Wednesday: the owners want a third round of the draft. From SheridanHoops.com:
SheridanHoops.com has learned that NBA owners have proposed adding a third round to the annual draft, a proposal that the players' union has countered by offering an array of changes to the draft that would help address the owners' desire for more competitive balance.
via
Exclusive: NBA wants 3rd round in draft | SheridanHoops
.
Sheridan also lays out multiple options being offered from the union's side, including two variations on the multiple-first-round-pick scenario. One such scenario eliminates playoff teams from the first-round altogether (outside of the last team in), giving teams 1-15 picks 16-30. That's going to set off calls of alarm from everyone from people who think it's basketball socialism (gasp) to fans of teams who traditionally finish top five and don't want to lose a competitive edge for being good.
But there's a lot of interesting elements at work with both proposals.
A third round is going to create a cacophony of "What's the point?!" debate. In short, the second round of the draft this year was an abject joke, with teams taking guys with red flags who clearly will not play a second in the NBA. (At least that's the widely-held projection; remember, this is the NBA draft, the greatest crapshoot you can find outside of Vegas.) So if they're not getting value from the second round, why add a third? Here's an alternative question asked by Scott Schroeder of RidiculousUpside.com on Twitter:
Why not
?
After all, if the contracts aren't guaranteed, then there's no harm, no foul adding a third round. It's only going to force teams to work harder, create a larger spectacle of the draft, and give teams more chances to get a good solid look at a player. The best thing about a third round is what it likely comes in conjunction with, a revamped NBA D-League. The D-League's current structure is still in the exploratory phase. Teams are adding their own affiliates quickly, but it's taken years to get the league to a point where teams will commit, and even then, they're still wary. A renovation to the D-League's structure would create extra roster spots (on an assignment level) for the players drafted late 2nd-early 3rd. It means that those players who teams really like and would like to take a longer look at would get a chance to play under a team's system, versus having to go pursue a career overseas far from the eye of the team. Additionally, it removes some of the danger in reaches. If you draft a player based solely on his athletic ability in the 2nd, or his size, perhaps, and discover in camp that he's a nightmare in terms of conditioning or, well, ability, that third-rounder gives you another player you have rights to with which to hit a home run. Is it going to happen very often? Of course not. It's also worth the minimal level of investment necessary. The additional work and subsequent job creation for scouts and draft personnel in such a situation is a nice added benefit as well.
It also means another hour of NBA draft coverage, which could just be really long for everyone involved.
Then there are the union's options, including two different variations of assigning multiple first-round picks to struggling teams as cited by Sheridan. The elimination of playoff teams from the first-round will surely cause panic among those who think bad teams should be punished into oblivion, but in reality, it's a win-win situation for everyone. Most often those draft picks wind up getting no playing time, as they're stuck on good teams who don't have roster spots, but want to keep the talent anyway. Players languish when they're not used, and don't even get practice time because of the NBA schedule. Being assigned to the D-League can be the best thing for them development wise, but that's such an undeveloped part of the league at this point, it comes with its own risks.
Conversely, granting teams in the lottery or the top eight, depending on the variation of the proposed rule change, gives teams wanting to recover from rebuilding a faster out. For starters, it covers the liability of a bad draft. Whiff on that 10th overall forward you really needed to make a difference for you? You've still got the 20th. It will be argued that teams that draft well won't have this problem. The issue with that is that you're just not going to find a team that has hit a home run with its draft every year for even the past five years, let alone ten. The draft is random, full of chaos and confusion, and locks wind up as busts and reaches turn out to be golden. Granting teams in the lottery that second chance is a good thing.
And for those who do draft well, it's an immediate reach up out of the gutter. Teams can become contenders in one year with two talented rookies, it gives them a base of the future and lowers the incentive to go out and get a veteran player to overpay just to fill a roster spot. Instead of panicking and throwing money at a low-efficiency, high-salary chucker, teams can simply get their pick of the fourth or fifth best wing in the draft. If they don't need a rookie, if they truly need that veteran? It gives them an extra trade chip. How many more deals would get done, how many more unhappy veterans would get moved if the trading teams knew they could get a first-rounder out of it? If you're drafting for need for a power forward but there's an All-Star wing available, you could trade your top first-rounder and still fill that power forward need with the second pick. Meanwhile, what are the contending teams missing? The ability to draft a bellboy to carry the bags? Someone to get the donuts, per Delonte?
For the teams truly in need of those picks in the playoffs, picks 14-18, this is a bad thing. But that's the good thing. Rebuilding happens to everyone. Punishing teams trying to rebuild is ridiculous because it's a hard job inherently. But worse than rebuilding is purgatory, those 8th-seed, one-and-done, year after year appearances that inspire no fan excitement, don't generate much playoff revenue and don't really show the team anything. Depriving teams of that draft pick gives them two choices. Improve or fall off, which is what should happen. Teams should never be stuck in purgatory. It should be contention or rebuilding, and this idea provides that.
There's certainly going to be a lot of talk about the proposed ideas, but these are still on the periphery. What matters is the BRI split, because that determines the money, which is what everyone cares about. The rest of this is just window dressing. But it's interesting that the window dressing could determine the contour of the league for years to come, and provides the most interesting facets of the lockout debates.