Posted by Ben Golliver.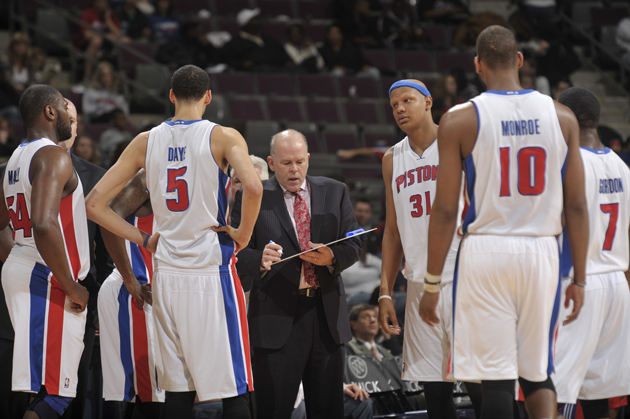 Rebuilding an NBA franchise takes creativity in all facets of the operation, and that's doubly true for a rebuilding team that is under new ownership like the Detroit
Pistons
. Owner Tom Gores must be creative in implementing new policies, procedures and personnel while building a rapport with the incumbent staff. Management must be creative in retooling a depleted, mish-mashed roster stocked with malcontents. New coach Lawrence France will need to be creative in developing younger players like
Brandon Knight
and
Greg Monroe
. And, of course, the organization as a whole will need to get super creative in finding new ways to get fans to show up to games.
That last issue -- ticket sales -- is particularly important in Detroit, a city ravaged by the economic downtown. The Pistons averaged more than 16,600 fans per home game last year, just below league average, but they played to just 75.5 percent capacity, third worst in the NBA. That's a lot of empty seats, and those empty seats reflect an opportunity for new ideas to increase revenue.
To that end, Gores announced on Tuesday that the Pistons have appointed long-time sports executive Dennis Mannion as the team's new president.
Mannion, 52, will oversee all Detroit Pistons and Palace Sports & Entertainment business operations, including sales, marketing, finance and administration. Detroit Pistons President of Basketball Operations Joe Dumars will continue to oversee all basketball operations.

Mannion brings a broad and unique perspective, having spent 29 seasons working in four major professional sports, including two years managing business operations for the NBA's Denver Nuggets and the NHL's Colorado Avalanche from 1998 to 1999. Mannion most recently served as President of the Los Angeles Dodgers where he worked from 2007 to 2010. He also previously worked for the Baltimore Ravens from 1999 to 2007, and for the Philadelphia Phillies from 1982 to 1997.

"Detroit is an incredible sports and entertainment town and I am honored by this opportunity," said Mannion. "I look forward to working with the Detroit Pistons and Palace Sports & Entertainment team, our corporate partners and the community to build on the legacy of this great organization. We will do everything we can to provide the best, most exciting experience possible for everyone that comes out to see a game or a show."
If you're a Pistons fan, you haven't had much to cheer for in recent years. There was a player-led refusal to show up to practice, verbal sparring matches between veterans and former coach John Kuester, and two trips in a row to the NBA Draft lottery, with a third trip likely next season.
Considering those factors it's clear that Mannion will be tasked with giving fans something to get excited about, at the games.
"Dennis is very well qualified and will bring a fresh perspective to the organization," said Detroit Pistons and Palace Sports & Entertainment owner Tom Gores. "He is an innovative guy and he shares our vision of creating the best possible experience for our fans. He also shares our core values of hard work and commitment to the community. Dennis knows what it takes to succeed at a high level and we are excited to have him on board."

In Los Angeles, Mannion's marketing initiatives and efforts to improve the game day experience helped the Dodgers lead Major League Baseball in paid attendance in 2009 for the first time since 1986. He also created the Dodgers Sports Lab, an in-house production facility and staff that generates content for all of the team's game broadcasts, motion graphics and video, online content and printed materials.
Improving the game experience has been a mantra for a number of new owners, including the Golden State
Warriors
, who recently pledged to make adjustments to the lighting and music at their games with an eye towards keeping fans engaged and happy.
It's a totally logical move, especially for those teams with issues at the gate. There is no easier way to increase revenue and improve a team's bottom line than by selling more tickets. Sometimes the on-court product alone isn't enough to get that done. Exploring every other possibility is the mark of a forward-thinking, outside-the-box management team.
If you're a fan, you not only want an executive that is catering to your needs but you want your team's ownership to seek out executives with experience and success doing just that. It seems like the Gores' Pistons have done that with this hire. Which is important, because you can't put lipstick on
Charlie Villanueva
's terrible contract.