Posted by Ben Golliver.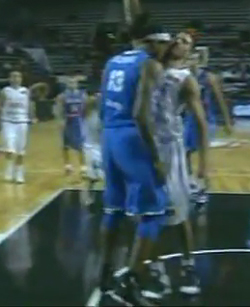 New York
Knicks
forward
Renaldo Balkman
, representing Puerto Rico, headbutted Memphis
Grizzlies
guard
Greivis Vasquez
, representing Venezuela, during a Monday game at the FIBA Americas tournament in Argentina.
The act was retaliation for a hard foul and led to an extended skirmish, requiring Puerto Rico's coach Flor Melendez to intervene and calm down Balkman, before the player was ejected. The foul occurred with 5:37 remaining and Puerto Rico leading, 85-62.
The exchange began with Balkman driving the ball towards the rim with Vasquez defending him from behind. Balkman turned the corner and there was no help defense on teh weakside, so Vasquez slapped down across Balkman's arm to prevent the lay-up. Balkman reacted immediately, turning to confront Vasquez, who had raised his arm to signal that the foul was his, and then lowered his head -- headband, dreadlocks and all -- into Vasquez's cheek, making clear contact. The action did not provoke a response from Vasquez but did lead his teammates to shove Balkman to the ground, and referees and coaching staff members entered the fray to separate the combatants.
Balkman's act was not the first bit of on-court violence from an NBA player this summer. Minnesota
Timberwolves
forward
Michael Beasley
pushed a fan in the face
during an exhibition game in New York City and Los Angeles
Lakers
forward
Matt Barnes
punched an opponent
during a pro-am game in the Bay Area.
Puerto Rico held on to beat Venezuela, 94-82, and is scheduled to face Canada on Tuesday. Because of the headbutt, Balkman has been suspended for that game
according to FIBAAmericas.com
.
Here's the video of Renaldo Balkman headbutting Greivis Vasquez during a FIBA Americas game in Argentina courtesy of
YouTube user dewel2011
.
Top image via the video.

Hat tip: SportingNews.com.