Posted by Ben Golliver.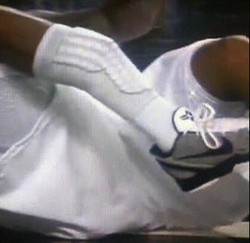 With the NBA engaged in a lockout, all basketball eyes have been turned to the EuroBasket and FIBA Americas tournaments. But this is something you might not want to watch.
During a Monday FIBA Americas game against Panama, Edgar Sosa, a guard for the Dominican Republic and former star for the University of Louisville, broke his leg.
FIBA.com reports
that Sosa was immediately transported to the hospital and that his injury, currently being referred to as a fractured tibia, will require surgery. Sosa broke his leg while driving to the basket during the closing seconds of a 92-68 Dominican Republic win in at the tournament, being held in Argentina. He immediately collapsed in pain on the baseline and was attended to by medical staff.
NBA.com reports
that the aftermath was, as you might expect, quite somber.
Edgar Sosa suffered a career-altering injury in the final minute of the game. On a drive to the basket, Sosa took some contact and fell hard to the floor. And when he looked at his right leg, he saw that it was bent in the middle of his shin.


It was an awful sight for anyone watching and the players on both teams were visibly shaken. After Sosa was taken off the floor in a stretcher, Panama respectfully dribbled out the clock and both teams gathered at center court in prayer.
University of Kentucky head coach John Calipari also leads the Dominican Republic national team, and he posted thoughts of support for Sosa almost immediately after the game.
"Please pray for Edgar Sosa,"
Calipari tweeted
. "He suffered a leg injury at the end of our game today. It's one of the most devastating things I've been through. My hope was Edgar would have NBA opportunities from this [tournament]. It was just a freak thing with 35 seconds to go. He's a wonderful young man and player."
Sosa went undrafted in 2010 but played Summer League ball for the Detroit
Pistons
. He played professionally in Italy last season.
Sosa's teammate, Detroit Pistons forward
Charlie Villanueva
, also
expressed his thoughts on Twitter
.
"A wounded solider, my prayers are with Edgar Sosa, hoping for a speedy recovery," Villanueva wrote. "God please heal over him."
Sosa finished with 13 points and 8 assists in 25 minutes against Panama.
Here's video of Edgar Sosa of the Dominican Republic brekaing his leg at the FIBA Americas tournament
courtesy of YouTube user santicontraras
.
Warning
: This video is very graphic.
Top image via KentuckySportsRadio.com