Posted by Royce Young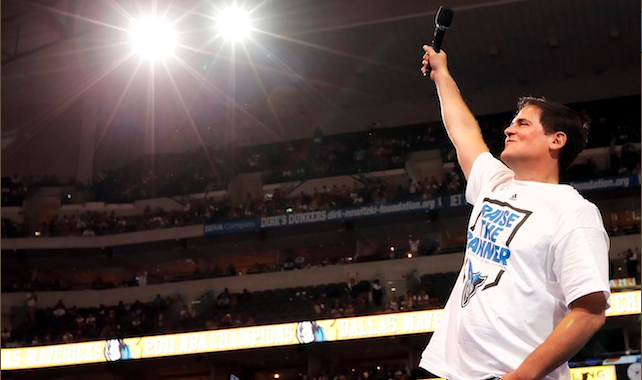 Conference realignment is all the rage. So much so that
Mark Cuban has decided to toss in his two cents to the conversation
. And when Cuban talks, it's always worth listening. He's an idea man and typically knows what he speaks of.
Here's his take: Keep the Big 12 together. I'll let him explain.
They should stay.

Why? The first reason is that the Super Conferences that are forming or being considered will turn into a huge mistake. No if ands or buts about it. While the concept of a Super Conference sounds incredibly cool , the reality is that the larger than 12 school conferences will only invoke the law of intended consequences and will create the following problems:

1. More schools will NOT mean more TV money.

The big college TV networks, Fox, ESPN, CBS pay for quality, not quantity. They need marquee matchups that are "Must Tweet TV". The number of schools in a conference actually reduce the parity and quality of match-ups in a conference. The networks will not pay up for that. Adding Texas A&M to the SEC is not going to add a single dollar's worth of value to the owner of the SEC TV contract , regardless of sport. Maybe the SEC has an escalator in their contract that increases the total value of the TV contract, but I'm guessing that it still will result in a reduction in the dollars paid to each school when compared to the amount paid had an additional school not joined the conference.
Cuban also lists the impact it would have on geographic rivalries, cupcake games will become obsolete and of course, there's more pie to split up among teams.
I live in Oklahoma. I graduated from the University of Oklahoma. So all this confernece realignment stuff is near and dear to me. That said, I'm an NBA blogger, so I'll leave all the smart opinions on this to our outstanding team of college football writers.
That said, Cuban's point missing the mark because he's too focused on one thing: money. Understandable, because Cuban's a businessman and that's what he operates on. But if the Big 12 is a nine-team league, it's to the point of being watered down where it's borderline irrelevant. I mean, the Big 12 would be a glorified Big East. And if you're adding teams -- BYU, Houston, Air Force, TCU -- does anyone really replace what was lost? TCU is a nice program, but that's not Nebraska. BYU has a great alumni base, but it's not Texas A&M. Heck, Houston's not Colorado, and that's not saying a whole lot.
And a 16-team conference won't affect the OU-Texas rivalry one bit. Here's something most people don't realize: The Red River game spent about 90 as a
non-conference
game for the schools. And it had plenty of cache regionally and nationally. Putting OU and Texas together in a Pac-16 East division just means the same thing that rivalry has had in the Big 12 South -- the winner's got the upper-hand in the division.
I appreciate Cuban's take on it because he's a smart guy. But remaining in a baby conference where OU and Texas play the role of the Red Sox and Yankees just isn't quite as interesting as a super Pac-16. It's not
always
about the money. Not that Cuban should or would ever get that.