Posted by Ben Golliver.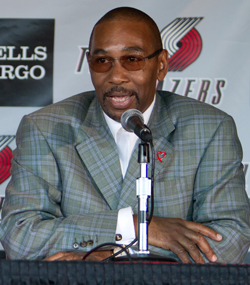 It has been more than 100 days since the Portland
Trail Blazers
fired general manager Rich Cho in the weeks leading up to the 2011 NBA Draft. And, finally, it appears the Blazers are moving towards finding a full-time GM.
Yahoo Sports reports
that Blazers president Larry Miller has begun assembling a list of candidates and interviewing them.
The Portland Trail Blazers have started the interview process for their vacant general manager's job, meeting with Oklahoma City Thunder executive Troy Weaver in Portland on Thursday, NBA front-office sources told Yahoo! Sports.

Portland has also received permission to interview Spurs assistant GM Dennis Lindsey, league sources told Yahoo! Sports. Lindsey has spoken to Blazers officials by phone, but no formal face-to-face has yet been scheduled, a source said.


Blazers president Larry Miller has expressed a strong interest in former Golden State Warriors GM Chris Mullin, sources said. Mullin's expected to talk with the Blazers too, sources said.
Cho's firing came less than one year after he was hired to replace former GM Kevin Pritchard and saw Portland's director of college scouting, Chad Buchanan, installed as the team's Acting GM. In August, Portland made the decision that Buchanan would not be given the job permanently, but the organization has dragged its feet during the process because of the ongoing lockout.
Cho has been hired by the Charlotte
Bobcats
to serve as GM while Pritchard was picked up by the Indiana
Pacers
to serve as the team's director of player personnel.
The Blazers still have Cho's hand-picked assistant GMs under contract -- Bill Branch and Steve Rosenberry -- and also retain Buchanan and director of pro scouting Mike Born in their basketball operations department, who report to Miller who in turn reports to owner Paul Allen. The staff's glaring weakness is a lack of salary cap and collective bargaining agreement expertise, as Cho filled those roles and the team's previous cap expert, vice president of basketball operations Tom Penn, was abruptly fired in 2010 and now works as a television analyst.
Candidates will likely approach the Portland job warily given Allen's erratic behavior recently. The roster is a mixed bag, with a potential perennial All-Star in
LaMarcus Aldridge
but also a burdensome contract in
Brandon Roy
and a giant enigman named
Greg Oden
. The team has qualified for the playoffs in three consecutive seasons, though, and has a solid coach in Nate McMillan locked into a multi-year extension. Internal expectations are always sky-high thanks to the demanding Allen, but he has shown a financial commitment to winning in recent years, giving a contract extension to center
Marcus Camby
, trading for
Gerald Wallace
and the remaining dollars on his contract, extending a qualifying offer to Greg Oden and bestowing lucrative extensions on both Aldridge and Roy.
Pointing Allen's pocketbook in the right direction -- while staying on his good side -- will be the name of this game.