Posted by Ben Golliver.
Life just gets zanier and zanier for Orlando
Magic
All-Star center
Dwight Howard
as he tours Asia with adidas.
Only a few days ago
, Howard dunked on a 12-foot tall giraffe statue in a Japanese shopping mall. That wasn't enough of a publicity stunt, apparently, because his latest move was to convince 100 Chinese people to plank on a basketball court to make the shape of his new adidas logo.
CNBC.com
posted an image
of the event on Twitter. As you can see, Howard is at center court and his logo is simply his initials, "DH."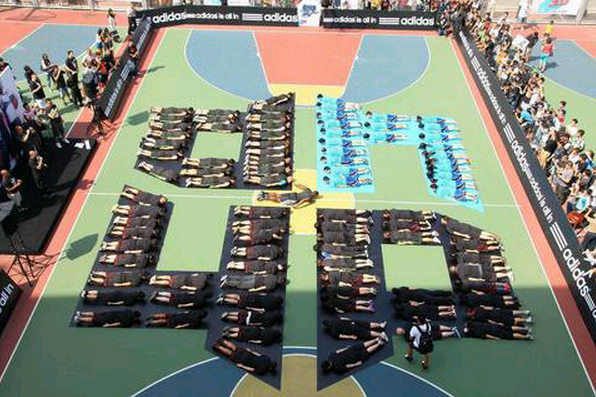 Howard is
an experienced hand when it comes to planking
, having engaged in an extended competition with Magic guard
Gilbert Arenas
that took them to luxury hotels, fast food restaurants, a riding lawn mower, a piano and a jacuzzi.
This type of devotion from his Chinese supporters/customers sets a high bar for Magic fans at the Amway Center, who
drew criticism
from Howard in August for not being loud enough during the regular season. Perhaps if the entire sold out arena planked during one of his free throw attempts, Howard would realize that Magic fans were fully capable of doing their part. Howard takes long enough at the charity stripe that everyone would have plenty of time to assume the position.
Then, once Howard bails out of Orlando during free agency and
Hedo Turkoglu
is left as the franchise player, Orlando fans can conveniently curl up into a ball from their plank position. Two birds with one stone.
Hat tip: ProBasketballTalk.com