Posted by Ben Golliver.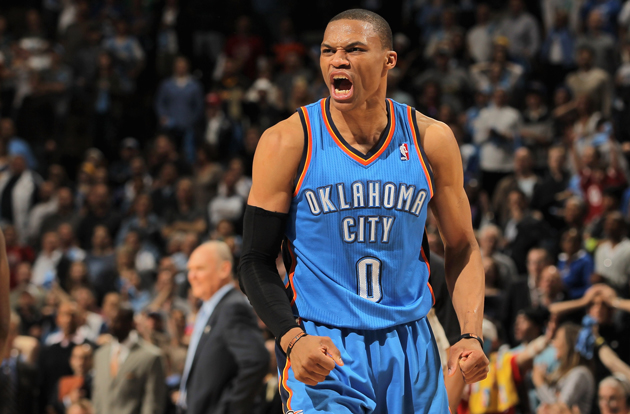 With Oklahoma City
Thunder
All-Star point guard
Russell Westbrook
, the questions are never about his physical tools. Boasting a virtually unmatched combination of size, strength, speed, quickness and leaping ability, Westbrook is a futuristic phenom, a
Heat
-seeking missile who can beat your fastest player end-to-end and fly over the top of your bigs to snare rebounds in traffic.
Criticism for Westbrook, of course, centers around his mental intangibles. Is he wired to be a distributor first? Why does he commit so many turnovers? How come the ball is in his hands so often late in games while the NBA's leading scorer,
Kevin Durant
, watches him operate one-on-one? Why does he get so many technical fouls?
Given that backdrop, it's interesting to hear Westbrook explain his interest in a more bloodthirsty sport: football.
Westbrook
joined the Dan Patrick Show on Friday
and was told that Maurice Jones-Drew, running back for the NFL's Jacksonville Jaguars, thought Westbrook would make a good receiver if the NBA lockout drags on.
"Actually, I was thinking about that," Westbrook said. "I might play football. I was pretty good [in high school]."
Interestingly, he then went on to suggest that he would excel at a slightly more violent position.
"I could make a solid receiver," he said. "But I could make a really nice safety."
Westbrook added that he would play for the Dallas Cowboys, if he was given his druthers, and that his favorite football player growing up was Emmitt Smith, the Hall of Fame running back.
"I played running back when I was younger, until I grew," Westbrook, who stands 6-foot-3, explained.
What's interesting here is that the words and phrases Westbrook's detractors would use to describe him negatively -- impulsive, impatient, hot-headed, too locked into one thing to see the bigger picture -- are the exact attributes that make the NFL's best safeties the most feared players in any sport. Safety is all about instincts, physical tools and fearlessness.
Westbrook is correct: he would be an excellent safety. He probably has a room full of broken X-Box controllers from abusing his "hit stick" on Madden and he likely would rank No. 1 on a list of "NBA players least afraid of concussions" power rankings list.
Safety and point guard are two very different jobs and require two very different approaches to the world, at least in theory. Sure, safeties often serve as leaders of the defense, but point guards orchestrate rather than detonate. They specialize in maintaining calm rather than making waves. The mentalities required to succeed at these positions would seem to be mutually exclusive. Point guards are quarterbacks, at least conventionally.
Jason Kidd
has a lot more in common with Peyton Manning than he does with Roy Williams, right?
Despite that, Westbrook didn't waver when asked whether he should be referred to as a "point guard" or "guard."
"You'd say at point guard," Westbrook said. "That's my natural position. I've been playing that all my life. I really don't know [why people question my position]. That comes along with playing in this league. The good thing about it is that my teammate and my family had my back and that's all that matters."
Can he have his cake and eat it too?