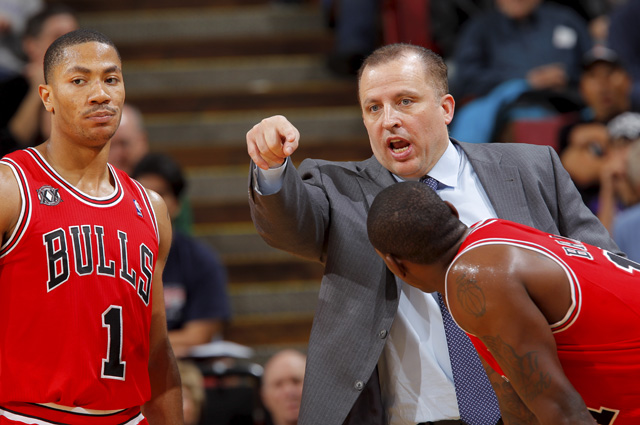 By Matt Moore
Stop me if you've heard this one before. Defense wins championships. That's not actually true, as some of the best defenses never win titles because their offense can't muster enough points to outscore a college team. But it's certainly vital. You'll never find a modern NBA team win with terrible defense. But who have the best systems? We know who the great defenders are, but how much are they a product of the system, and how much is the system a product of them? We sought to answer those questions with our own form of the defensive system power rankings.


1. Chicago Bulls:
There's a reason Tom Thibodeau is considered a defensive genius. Look no further than the fact that the Bulls were the defensive icon of the league despite considerable injuries last season and the fact that
Carlos Boozer
was a heavy-minutes starter. The key to Thibodeau's system is help and precision attack. There's no anticipation of meeting the player at the point of field goal attempt, the initial penetration is deterred by a series of help defenders cutting off multiple options. It's a system that masks individual defensive weaknesses. That's why players like
Omer Asik
, Boozer, and C.J Watson suddenly become strengthpoints.
An interesting component is that the Bulls are so focused on preventing scores, they manage to avoid fouling. They had the 22nd lowest free throw rate in the league. Compare that with Boston's 10th rating, and you find a much cleaner defense. That's partially attributable to the different personnel but it's also indicative of the Bulls' approach. They attack the dribble, cut off the lane, and contain, contain, contain.
Their cohesion is nearly perfect, their communication is nearly perfect, their approach is nearly perfect. Guarding
LeBron James
nailing long-range threes? You've got be perfect to beat that.
2. Boston Celtics:
The ugly older brother of the Bulls' defense. The Celtics use the same help mechanisms to deter penetration and attack the rim, but are far more willing to commit to a club to the head to make their point. Intelligent design matched with brute force. Another key difference is their reliance on their individual personnel.
Kevin Garnett
is of course the field general, and its his willingness to commit to any assignment or range that fuels the system. But
Paul Pierce
,
Ray Allen
, and
Rajon Rondo
are all equally essential along with the rest of the team. The problem is that the central reliance on personnel gives way to vulnerability. Eventually age catches up with the Celtics.
What bolsters them, though, is a philosophical dedication. The Celtics are willing to do the hard job, no matter how tough. It's not just a matter of professional dedication, its a prideful philosophy, an extension of the family unity they've tried to instill in the team. That's really what separates the Celtics, their almost militaristic dedication to the defensive discipline they try and execute for 48 minutes.
The Celtics' defense is only going to continue to slide as the players' abilities downgrade with age. But until then, they're still stocked with the most experience, ability, and knowledge of their system of any team in the league.
...
Again, with the LeBron thing.
3. Miami Heat:
If the Celtics and Bulls both rely on system built on systemic fundamentals and philosophy, then the Heat's concept is a bit different, if nearly as effective. Their strengths begin with their talent. Having three of the most athletic players in the league gives you a basis. LeBron James' ability to play on the perimeter, on the wing, in the post, and battle for rebounds gives them versatility.
Chris Bosh
is never going to win anyone's heart over with toughness, but guarding those stretch fours in a league where they can torch you is important, and Bosh does it well.
Dwyane Wade
still gambles more than he should, but he also makes plays more often than you want if you're facing him.
This isn't to say the rest of the Heat are schlubs.
Udonis Haslem
is a big, tough, difficult defender who has the savvy to arm wrestle a weapon to the proverbial ground. The Heat have veteran players who don't lack for experience, and it helps tremendously.
The most interesting wrinkle in their defensive system, though, is one of their anticipation. Consider that the Bulls and Celtics both react to where the ball goes. They're always playing a game of stop what's in front of them. It's a very Eastern-philosophy, "stay in the moment" kind of mindset. But the Heat look to anticipate. They run to the corner shooter before the ball arrives. They play on a string, but not just in terms of shutting down one option and then reacting, but getting ahead of the offense to prevent the quick open look opportunity. The result is a load of shot clock violations.
The problem is personnel. They have neither the wing stopper they can commit at the cost of offense, nor the body in the paint at center to defend the rim. There's a reason why
Shane Battier
and Eddy Curry reportedly top the Heat's list of targets in free agency. A few better options defensively in terms of personnel might have won them two more games in the Finals, which was all that stood in their way of vindicating all that premature boasting.
4. Orlando Magic:
It's good to have the best.
Dwight Howard
makes more of an impact defensively than any other player in the league, the reason he's the defending Defensive Player of the Year (again), and why he was an MVP candidate last season. If you don't believe me, watch just the Orlando Magic defensively some time. A team with
Gilbert Arenas
and
Hedo Turkoglu
in prominent roles was a top five team defensively last season, and that impact begins and ends with Dwight Howard. Howard reacts to the baseline, swats the weak side, covers both the ball handler and roll man on the pick and roll, and is big and tall and super-athletic. He's a freak of nature, and one that's learned to be smarter on defense every year.
But to say that it's all Howard does a disservice to Stan Van Gundy's work. Van Gundy, after all, is the coach that has brought Dwight Howard to the defensive level he's at, making it a priority for the young big man since 2007. And it's Van Gundy who manages to pull this kind of defensive effort out of a team with that roster. That Van Gundy is able to generate cohesive defensive efforts with
Brandon Bass
,
Jameer Nelson
, and
Jason Richardson
in key roles along with the others speaks volumes of what SVG is capable of.
His biggest weakness is that personnel, which has gotten worse each season since 2009. Howard's hit his ceiling defensively. Unless SVG gets better supporting talent, there's only so many rabbits he can pull out of his hat.
5. Los Angeles Lakers:
It's good to be tall.
The Lakers' defensive system is a question mark as Mike Brown takes over. But if we look at what the Lakers have done well in the past, it's pretty simple. Be tall, be active, apply pressure. The Lakers will talk about experience and veteran savvy, but their biggest asset is the fact that
Lamar Odom
,
Pau Gasol
, and
Andrew Bynum
combine to create a redwood forrest down low through which passes cannot flow. The result is a lot of perimter passing just to get the ball to the other side, or wild looping cross-court volleys. Combine that with
Derek Fisher
's ability to counter his slowness with pestering opposing point guards into personal fouls, and
Kobe Bryant
and
Ron Artest
's proficiency in perimeter defense, and you have quite the set.
Honestly, this roster probably has a lot of upside in defense, still. Jackson was too busy handing out novels and waxing poetic on what other player or coach he was degrading that week to really focus defensively other than to talk about, well, focus. The Lakers with Brown could be the best defensive unit in the NBA next season. Whenever that is.
Also considered:
Milwaukee Bucks:
Skiles continues to struggle with offense, but his teams always attack the ball and stay disciplined. It's sloppy at times, but Skiles' grinding approach is a proven tactic.
Dallas Mavericks:
Rick Carlisle talked in the Finals about "defending with five guys" and that's the best part of the Mavericks. They use any and all weapons at their disposal. Their defense isn't why they won the NBA championship, but it was why they won the Finals. Versatility combined with determination and good chemistry with sound principles made them formidable enough to compromise teams enough for their offense to do the rest.
Memphis Grizzlies:
Unconventional is the word, here, as the Grizzlies run counter to every defensive tradition in the NBA. They don't play position, they attack the ball. They don't focus on misses, they swarm for steals. They don't deny layups, they pester and pressure until the offense collapses. Out of nowhere, Lionel Hollins turned one of the worst defenses in the league into one of the best.
Tony Allen
's influence helps, so does Shane Battier's, but it's Memphis' adoption of the blue collar ethic of the town that helped them make their playoff run.