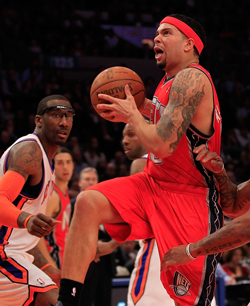 Posted by Royce Young
Thursday's the day for
Deron Williams
. The day he packs up and leaves the United States and heads to join his new team, Besiktas, in Turkey. Or at least it's supposed to be.
Williams has promised that he was going to follow through with the contract he signed with the club back in July. He was the first big name star to sign overseas and though it wasn't for a ton of money (reportedly $250,000 a month), it was a good negotiating tactic for the players and something he wanted to do.
Here's the question though: How long will Williams be there? Not in the sense of how long will the lockout last, but how long will he stay in Turkey even if the NBA season is cancelled?
Mitch Lawrence of the New York Daily News has his doubts
:
It's a fair question, since even the Nets' star playmaker admitted just this past weekend that his surgically repaired right wrist still isn't fully healthy. He had three bone fragments and scar tissue removed in April and it's been a slower rehab process than expected. He was told recovery would be no longer than two months, which should have had him ready to roll in July.

"I've still got some strengthening and breaking up scar tissue," he said. "That's the process with any surgery."

But his recovery has been closely watched because several NBA team executives think that his wrist issues will give him a perfectly legitimate excuse to bail on Besiktas, a second-tier team, if he finds that living in Turkey isn't for him. The countdown for his return to the U.S. will start in earnest the first time he gets hacked on the wrist.
It's a good question and it's a good excuse for Williams to leave. He has an opt-out and the money he's making isn't an amount that would make have to stay. Or buy himself out if he had to.
If he gets to Turkey and the travel is horrible, food is bad, practices are long and
his coach is decapitating goats on the court
, he might decide, "You know what, my wrist kind of hurts. Gonna go home now." Certainly a possibility.
Here's what Williams said last week about his trip to Turkey: "I'm excited," he said last Saturday, about his new overseas career. "I think it'll be exciting to go over there and play basketball, for one, while everybody else isn't. It'll just be an exciting time for my family. See a new culture."
That's how he feels now. Let's see if that changes in a month.