Posted by Ben Golliver.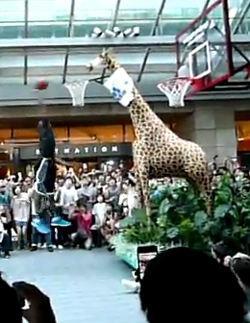 Orlando
Magic
All-Star center
Dwight Howard
has been the NBA's best big man ever since Shaquille O'Neal started backsliding on that Jenny Craig diet.
Howard has been without peer as a pivotman; his contemporaries either too short, too slender, too gangly, too one-dimensional, too obese, too slow or too injury-prone to match him skill for skill. Left looking for a new challenge during the NBA lockout, Howard traveled to Tokyo, Japan, to seek out adequate competition.
At the
Roppongi Hills shopping mall
in Tokyo, Howard met his match: a 12-foot tall giraffe statue with a basketball hoop attached to its neck.
Surrounded by media and fans, Howard eyed his new adversary warily, approaching it with caution in an attempt to feel it out. Comfortable that it would be conquerable, Howard backed up, waited for the crowd to start clapping and chanting, and then leaped high for a one-handed dunk through the giraffe's neck basket, which stood roughly 11 feet off the ground.
Japanese blog Round Magic writes
that the urban jungle adventure was just one stop on Howard's tour through Japan, as he also visited local schools and other adidas events.
Here's the video of Dwight Howard dunking in a giraffe
courtesy of YouTube user 651AllRoundMagic
.
Hat tip: The Point Forward