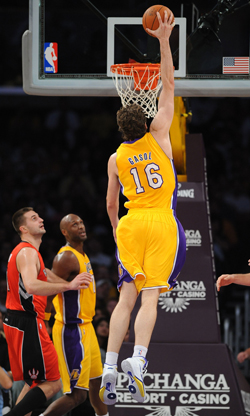 Posted by Royce Young
It's been a strange few months for
Pau Gasol
. He went from the guy that helped bring two more championships to the
Lakers
to the guy getting finger-stabbed by Phil Jackson in the sweep by the
Mavericks
. The guy that was a savior to Kobe to the guy criticized for being unfocused.
Gasol himself even proclaimed that
he "collapsed" in the playoffs
. And now he's facing the potential of a lost season with no shot to immediately redeem himself.
He's in Lithuania right now playing for his home country of Spain in the EuroBasket tournament and
talked to the LA Times
about the Lakers unceremonious exit from last postseason and the nasty lockout.
Do you feel like you have anything to prove given the way the Lakers' postseason ended?

I do not think there's anything to prove on my side. Last season we didn't perform during the playoffs as we were supposed to. But people do not forget our previous championships. You cannot win every year, there are a lot of very good teams in the league. That will give more value to our previous championships. I don't think I have to prove anything but of course I want our national team to win the championship.

What are your plans if the NBA lockout persists?

I have not been thinking about that yet, although I follow all the negotiations. As far as now, I see the situation has not changed much. I am optimistic that there will be an agreement and the lockout could end soon. I will think about everything when it will be the moment to do so. As far as now, I am focused on the European Championship.
Pau Gasol sounds like a glass half full kind of guy. Yeah, the Lakers might've been trounced in four games by the Mavericks, but hey, you can't win 'em all. Yeah, the labor negotiations might be in a dark place with the very likely situation of games being missed, but hey, they're going to get a deal done.
I can appreciate that type of outlook. Especially the you-can't-win-everything stance. Fans don't want to hear it, especially when they've been as spoiled with trophies as the Laker nation, but it's not like the other 29 teams in the league aren't trying to win too. (Well, 28 I guess. I forgot about Donald Sterling's
Clippers
.) Teams aren't just going to roll over for the Lakers. If anything, they're going to gear up even more to knock off the defending champs.
Gasol already has two championships on his resume and though he wasn't able to help the Lakers to a third straight one last season, all you can do is regroup and go again. And once his career gets a nice bow put on it, if he has three, four or maybe more championships tied to it, I don't think anyone will think he failed.
As for the lockout optimism: Thanks Pau. It may be grim and it may be ugly, but little comments like that are exactly what keep fueling my pathetically optimistic view of the negotiations.