Posted by Ben Golliver.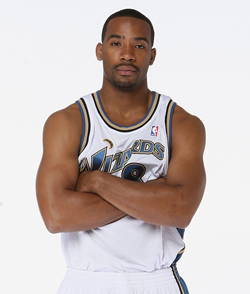 What drives a man to murder?
It's impossible to truly know, but motives come in all shapes and sizes. For Javaris Crittenton, a former NBA player
charged with murdering
a mother of four in Atlanta, one possible motive, according to police, is revenge for a robbery at gunpoint.
The Associated Press reports
new details of an April robbery that Crittenton had previously reported to police.
Crittenton told police he and a friend were leaving a barbershop around 10:50 p.m. April 21 when two teenagers surprised them as they returned to their car, according to police report released to The Associated Press.

One teenager held Crittenton at gunpoint and ordered him to "give me what you got," he told police. He said he handed over a $25,000 black diamond necklace, a $30,000 black diamond watch, an iPhone and $25 cash, according to the report.
Jullian Jones, the woman whom police allege was shot by Crittenton, was reportedly outside her home with a male teenager when she was gunned down. The man, Trontavious Stephens, denies knowing and robbing Crittenton but identified him as the shooter, according to the Associated Press.
Earlier Tuesday,
the Washington Post reported
that Crittenton had sought to borrow money in 2010 from former Washington
Wizards
teammate
Gilbert Arenas
to pay for his mother's "escalating medical bills" even after a locker room confrontation between the two saw both players suspended. The paper also quoted Arenas as saying that Crittenton had been
acting "more gangsta"
following their confrontation, which involved guns in the Verizon Center's locker room.
Crittenton, 23, has claimed his innocence and was
arrested at an airport in California
on Monday as he attempted to fly back to Georgia to turn himself in to authorities. His NBA career lasted just two seasons, including stints with the Los Angeles
Lakers
, Memphis
Grizzlies
and Wizards. He was cut by the Charlotte
Bobcats
during training camp in 2010 and had been playing in the D-League. He averaged 5.3 points and 1.8 assists in 16.4 minutes per game in the NBA.