Posted by Royce Young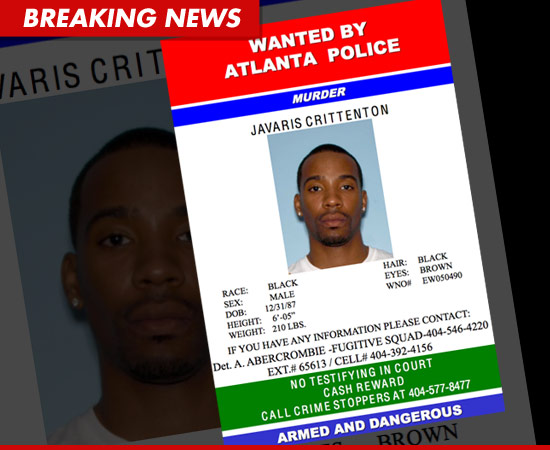 This is definitely not the kind of poster NBA players dream about being on.
Via TMZ
, police in Atlanta have issued an official "wanted" poster for Javaris Crittenton who is a suspect in the murder of a 22-year-old women. According to the poster, Crittenton is considered "armed and dangerous." Also, the poster lists "cash reward" as part of helping to locate Crittenton's whereabouts.
The most recent information suggests Crittenton is in Los Angeles, but obviously it's not exactly known where he is. The FBI division in Atlanta
issued this release
:
Special Agent in Charge (SAC) Brian D. Lamkin, in conjunction with Assistant Director in Charge Steven M. Martinez, Los Angeles FBI, requests the public's assistance in the following matter:
Javaris Crittenton, age 23, of Fayetteville, Georgia, is wanted by the Atlanta Police Department on murder charges stemming from the August 19, 2011 fatal shooting of 22 year old Julian Jones. On that date, officers responding to a shooting found Ms. Jones with multiple gunshot wounds. She was transported to a nearby hospital where she was pronounced dead. Witnesses in the matter stated that a dark colored SUV vehicle drove by the location firing an assault type rifle.
Crittenton, a former National Basketball Association (NBA) player, is believed to have traveled to the Los Angeles, California area where he is known to have family and friends. Investigators learned that on August 24th, Crittenton purchased and traveled on a one way airline ticket to Los Angeles.
On Monday, August 29, 2011, the Atlanta Office FBI obtained a federal Unlawful Flight to Avoid Prosecution (UFAP) arrest warrant for Crittenton.
Anyone with information on the whereabouts of this individual should contact their local law enforcement agency, the Atlanta FBI Office, tel. (404) 679-9000, or the Los Angeles FBI Office, tel. (310) 477-6565.