Posted by Royce Young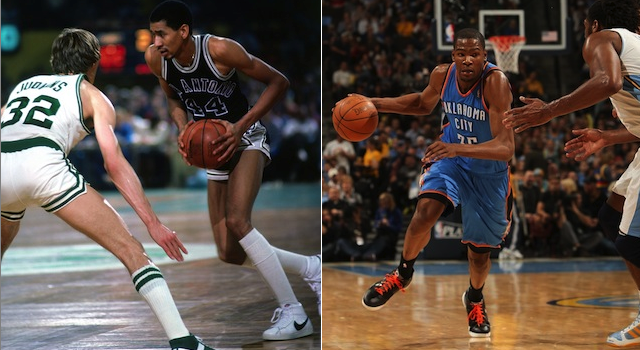 We live in an immediate society. The internet, social media, the ever-accelerating news cycle, everything means that the next 30 seconds is 10 times more important than the last 30 seconds regardless of what actually happened in the past 30 seconds. As a result, we lose perspective on what stands truly relevant from the past. The NBA is no exception. So in an attempt to merge the two worlds (since, as a blog, we love/hate/want to be BFFs within the next 30 seconds), we'll be bringing you a look at players past and present, in relation to one another.
Previously:
Isiah Thomas vs.
Chris Paul
|
Larry Bird vs.
Dirk Nowitzki
|
Michael Jordan vs.
Kobe Bryant
|
Dwight Howard
vs. Moses Malone |
Magic
Johnson vs.
LeBron James
Next up: George Gervin vs. Kevin Durant
Finding a historical parallel for Kevin Durant is sort of challenging. There's just no an obvious fit. Sure, there have been countless pure scorers throughout NBA history that effortlessly drop 30 points a night as if they're doing something routine like taking out the garbage.
That's not what I mean.
But finding that similar fit in terms of frame, style, demeanor and everything else that we've tried to do in this series, has been tough. There's isn't a really natural fit. Bernard King? He was as gifted a scoring machine as there ever was, but I'm not sure he actually has "legend" status. John Havlicek? Elgin Baylor? Both are certifiable legends and both were scoring savants but each were just 6-5 while Durant stands darn near seven feet tall. Julius Erving? Different players entirely. Dr. J was the slash king but couldn't make anything outside of 15 feet. That's not Durant.
There is one mirroring image of Durant, but for the first time in this series, it's a player that he probably doesn't want to be. A player who while a no-doubt Hall of Famer, someone that Durant should try and push past: the Iceman, George Gervin.
Obviously no disrespect intended to Gervin, because we're talking about an all-time NBA great, but he's not exactly Bird, Magic, Moses, or MJ here. He never won a title and some even questioned which type of title he was even playing for -- scoring or an NBA championship. He's an all-timer, but it's questionable whether or not he qualifies for "legend" status.
But still, his resume is sparkling. Gervin finished with 26,595 points (including the ABA, which would put him 12th all-time), won four scoring titles (including three straight -- Durant just put away his second consecutive), was a nine-time NBA All-Star (three-time ABA All-Star) and made five first-team All-NBAs.
I hope you get my point here. George Gervin absolutely is an all-time NBA great. He's got the numbers, the highlights, the status, the Hall of Fame-ness -- his resume is pretty much complete. It's just missing that final piece that would catapult him from a top 50 player into an easy top 20 guy. Sometimes judging players by only championships isn't fair, but in Gervin's is kind of is.
But he fits as Durant's historical parallel. At least better than pretty much anyone else. Mainly because he serves as sort of the Ghost of Ring-less Future for Durant. And also, because they're pretty darn similar in game, style and ability.
When Durant was coming into the league, everyone was drawn to this comparison because of the similar body styles, scoring ability, personality and all that stuff. It's probably not a coincidence that some have nickname Durant "Baby Ice." Gervin was the original lanky, long, lean scoring machine that could put up a 40 spot by the end of the third quarter and you'd say, "Hey, did you know Gervin's got 40?" Scoring within the flow makes you a silent killer, which is the Durant way. But originally, it was the Gervin way.
Check Gervin's four best seasons. He averaged 33.1 points a game on 52.8 percent shooting in 1979-80, 29.6 ppg on 54.1 percent in 1978-79 (with no 3-point line) and 32.3 ppg on 50.0 percent shooting in 1981-82. Compare that to Durant's last three seasons: 25.3 ppg on 47.6 percent, 30.1 on 47.6 percent and 27.7 on 46.2 percent. The main difference in those seasons between Durant and Gervin though? Durant averaged those taking 20 or fewer shots a game. In Gervin's '81-82 season, he took more than 25. Main reason: Gervin didn't have the same silky outside touch Durant does and the most free throw attempts a game he averaged in a season was 8.3 (Durant got to the line 10.2 times a game in 2009-10).
It's easy to see Gervin in Durant. The easy-going, calm personality. The lanky frame. The other-worldly scoring abilities. Of anyone, it's the most natural comparison. But like I said, if Durant were to finish his career like Gervin, he'd be disappointed. All the points and all the All-Star teams would be nice, but Durant isn't playing for scoring titles. He's playing for real titles.
Consider this quote from Gervin in 1980, via Bill Simmons'
The Book of Basketball:
"I'm perfectly happy being known as George Gervin, scoring machine, because in this game the person who puts the ball in the hole is the person that usually gets ahead." Can you EVER imagine Durant saying something like that?
Not to say Durant doesn't have a chance to put up historically scary numbers. Before his 23rd birthday he's already scored 8,128 points. If he plays to his 35th birthday (that's 16 NBA seasons), he's on pace for around 32,500 points. That would put him third all-time,
ahead
of Michael Jordan. Wow. Even sans a title, it'd be hard to ignore that.
And already Durant is stockpiling those pantheon moments that place him in our memory banks as a great. That Game 5 takeover against Denver in the first round last year? Legendary stuff. How many moments like that can you think of off the top of your head for Gervin? Durant seems to have that alpha mentality, that takeover killer instinct that can lift his team to a higher place. Gervin didn't have it. He just scored.
Here's the thing though: Durant may
seem
like he's on a path to all-time greatness right now, but there's nothing preventing his career from going to same path of Gervin's. (I feel like I have to point out once again that that's not really a bad thing at all, but you get what I mean. Durant wants to be a legend. Not just a top 50 all-time player.) There are a ton of factors that can derail otherwise destined careers. Injury, bad front offices, bad luck, etc.
Winning a championship is
hard
. Durant's definitely on a crash course it seems now, but getting over that hump is a major challenge. Charles Barkley, Karl Malone, John Stockton -- never won titles. And in a lot of ways, their careers are defined by that. If Durant were to go 15 years, win 10 scoring titles while piling up something like 28,000 points, he'd be a top 30 all-time player, but he'd basically just be a slightly improved Gervin. There's really no way around it.
Recall
Tracy McGrady
when he was torching the league as maybe the most offensively gifted player anyone had ever seen. Already Durant has nearly accomplished as much as McGrady -- and more in some ways as KD has won two playoff series while McGrady hasn't won any -- with a whole lot of career to go. But Durant will certainly be one of those players defined by championships. It's going to happen. Because history doesn't always seem to appreciate pure scorers like Gervin. We all sit back, fold our arms and say, "Yeah he won a bunch of scoring titles, but what good did that do him?" Not only did Gervin never win a title, but he never
played
for one either. If Durant's career walks down that same path, one day we'll be using him as a cautionary tale to the next young great scoring savant.
But lucky for Durant, he's just 22. Still a lot of time to write his own story yet.