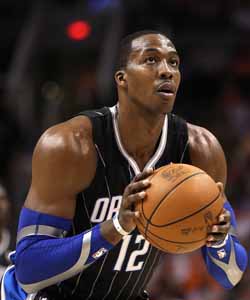 By Matt Moore
Dwight Howard
shot a career high in free throw percentage last year at 59.6 percent. Getting past the fact that his career high was still below 60 percent, it's good that he made progress in what was considered to be his best year in the league. Granted, it was only a .4 percentage point improvement over the previous season and a .2 percentage point improvement over his previous best, but hey. Baby steps? Apparently Dwight doesn't think those baby steps took him quite far enough, so he's started what he should have started years ago. He's hired a free throw shooting coach.
From the
Orlando Sentinel
:
In his quest to become a better free-throw shooter, Dwight Howard has turned to a man who bills himself as the "Shooting Surgeon General" and the "Free-Throw Master."

Howard is working with shooting coach Ed Palubinskas, an Australian sharpshooter who played in the 1972 and 1976 Summer Olympics and is the career free-throw percentage leader at LSU. Palubinskas has worked with Orlando Magic power forward Brandon Bass and also briefly worked with Shaquille O'Neal.
via
Dwight Howard: Orlando Magic all-star Dwight Howard hires Ed Palubinskas to be his shooting coach - OrlandoSentinel.com
.
Palubinskas told the
Sentinel
that he will change Howard's numbers in one year. The idea here is that Howard will be a better student than Shaq. That's kind of interesting to note. Howard comes across as a willing student, having sought out Hakeem Olajuwon to improve his game. But Howard also took some of what Hakeem taught him and sought to disregard the rest, telling CBSSports.com last year that there was only so much Olajuwon could teach him since the game was so much different now. Free throw shooting obviously doesn't change, so it'll be interesting to see if Howard fully embraces Palubinskas' teaching or not.
What's the real impact of Howard's free thows? Last year he missed 370 free throws. If he raised his percentage to
the league average of 76.6 percent
, that's over 155 more pointss per season, or, based on his 78-game season, nearly two points per game (1.9 exactly). Doesn't sound like much, right? Thing is, that would move him to 24.8 points per game, which is only .2 points behind
Derrick Rose
. It's worth it for Howard to just make the league average. If he were to become even beetter, the offensive impact would cover his still-less-than-excellent footwork and post moves. It's the quickest way to an MVP trophy for him, and would naturally help the Magic out as well.
We'll see if it actually makes a difference, and how Palubinskas reforms his shooting, in form or function.
(HT:
PBT
)