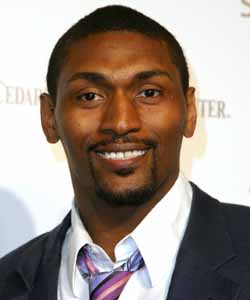 By Matt Moore
The wait is over. We've been stuck in limbo for months, patiently suffering through court proceedings and unnecessary debates. But that time is through. We're going to get what we want.
Ron Artest
is officially Metta World Peace. Artest...er.... World Peace (is it World Peace or just Peace? This is going to take some getting used to.) told Yahoo Sports:
"You can call me Ron today and then it's over. It's a wrap," Artest said. "It's about love, world peace. Everybody can relate to that, whether it's in the same community or the same state or the same country or whether it's a country going to war.

"It's about world peace. You know what I mean? The kids need to know that, and they know that now."
via
Artest: World Peace coming soon - NBA - Yahoo! Sports
.
Artest also plans on changing his jersey number to 70 because "it's like something to do with the universe."
You know. The universe.
Artest is still in talks to join the Cheshire Cats, though an insurance issue may complicate the situation provided that the NBA doesn't start on time (or at all). Artest, for what it's worth,
says he's staying in the Kingdom
.
This is pretty much par for the course for Peace, who has always been eccentric and has taken on a more mindful outset since entering therapy two seasons ago. He won the Kennedy Citizenship Award last season for his off-court charity efforts. Now he's promoting good thoughts every day with his name. Now all we need is for the rest of the world to believe. Ron Artest could change the world. Metta World Peace could change the world. You could change the world!
Sorry, got a little carried away there.
(This whole thing is ridiculous.)