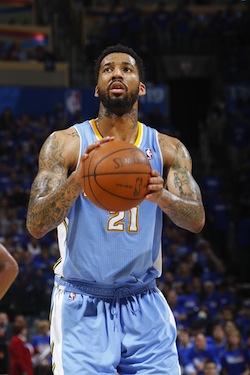 Posted by Royce Young
Another NBA player is taking his talents overseas, except this time, it's not some marginal no-name. This time, it's a pretty darn good player and a restricted free agent to boot.
Wilson Chandler
, currently of the Denver
Nuggets
, has agreed to terms with Olimpia Milano in Italy,
according to Sportando
. And there's a catch to the deal: It allows him to leave the team after the first stage of Euroleague. He signed for $500,000 for about two and half months of service. Not too bad, considering his qualifying offer in the NBA was $3.1 million.
But what makes this interesting is that Chandler likely doesn't have an NBA out. Meaning if the NBA reaches a deal before December, restricted free agent Wilson Chandler will still be in Italy playing hoops. It's a risk, but at this point, is it really that big of one? Zach Lowe of The Point Forward has
some good thoughts on why it is
:
To some degree, everything about the future of the NBA is an unknown right now, but Chandler's deal places him in an even more uncertain future. If the league is back in business in November, can Chandler sign a contract right then for whatever portion of the 2011-12 remains after the new year? Will teams outside of Denver view him as devalued, at least in the immediate future, since they might not have time to integrate Chandler into their systems during whatever sort of training camp might precede an abbreviated 2011-12 season? If his $3.1 million qualifying offer still applies — an unknown, again — how exactly would that work, considering that amount is intended to pay for a full season of NBA play?
Chandler is definitely taking some chances in signing this deal, again, assuming it has no NBA out. But I guess he's seeing the negotiations pretty pessimistically. He doesn't see the NBA starting on time so if it works out on his schedule, he'll be back right on time to play the free agent market.
What's the advantage of the month-by-month contract instead of just adding an NBA out? Because it makes you far more attractive to the European team, therefore more money. Contrary to popular belief, those Euroleague teams want to win. It's not some kind of little league that just exists to supplement the NBA every now and then. It's serious business and Olimpia Milano wants Chandler because they see him as a key piece in advancing in Euroleague.
And if the NBA doesn't reach a conclusion by December? I bet Chandler would just re-up with his Italian team.