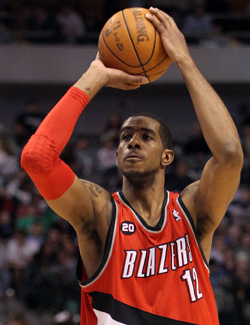 Posted by Royce Young
Ask a player, owner, commissioner or anyone affiliated with the NBA about the status of the 2011-12 season and you're going to get differing levels of optimism and pessimism. David Stern is optimistic.
Dwyane Wade
is optimistic.
But
LaMarcus Aldridge
? He's on the other end. Not just pessimistic, but extremely pessimistic.
He told The Oregonian
he doesn't see the 2011-12 starting on time and even worse, is completely willing to sit out the season to get a fair deal.
Aldridge, who is the Blazers' player representative in the NBA Player's Union, said he does not expect the season to start on time but does believe there will be a season eventually. That said, he is prepared to sit out all of 2011-12 if necessary.

"If that's what it takes to get a fair deal done, then yes," Aldridge said.
Bad news: In order to get what you think might be "fair," you're probably going to have to sit out 2011-12, LaMarcus. Because the owners seem pretty dug in.
As Ken Berger of CBSSports.com reported recently
, a new bargaining session is on the way in September and that one will go a long way in determining whether or not this season will start on time. If things go well and there's a little movement, then it's entirely possible that a deal could be struck in time for the season.
If not, then that's when you can start reconsidering those season tickets.
Thing is, every time I start feeling better about things, along comes someone like Aldridge to make me feel bad. It just
seems
like the two sides have to get a deal done. Too much is at stake right now. But if a lot of players are like-minded with Aldridge, then it could be a long winter.