Posted by Ben Golliver.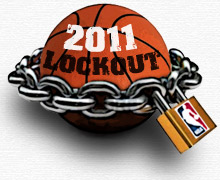 Ever wondered how much revenue the NBA's arenas rake in over the course of a season?
Bloomberg.com reports
that the figure is in excess of $1 billion and that the ongoing lockout and the possibility of a canceled or delayed season puts that giant pile of money in jeopardy.
National Basketball Association arena operators would miss out on more than $1 billion in ticket revenue if a labor shutdown wipes out the 2011-12 season, probably leaving their buildings dark those nights.

"Most all the dates would go unfilled," former Portland Trail Blazers President Steve Patterson wrote in an e-mail.
Of course, many arenas are not operated by the NBA teams that fill them. Independent management companies, auxiliary management companies or even sports teams in other leagues can find themselves in the position of operating and profiting from arena revenue from NBA games.
Because the NBA has alread released its 2010-2011 preseason and regular season schedules, the arena operators really have no flexibility or recourse if the ongoing lockout results in a delayed or canceled NBA season. All 41 regular season home dates must remain reserved for the NBA.
In other words, all those empty nights could add up to serious losses.
"As much as we would like to have the ability to repurpose those dates, it's just impossible," [President of TD Garden in Boston John] Wentzell said in a telephone interview. "I don't think anyone would attempt to spin this -- that it's not a painful hit to their business."

"They're losing up to half of all revenue that comes to them over the course of a year," said Rob Tilliss, founder of Inner Circle Sports, a New York-based advisory firm that represented Apollo Global Management LLC co-founder Josh Harris in his purchase of the Philadelphia 76ers. "It's very damaging."
Independent arena operators will really take it on the chin if the lockout continues on without a resolution. They have no ability to directly impact the ongoing Collective Bargaining negotiations and they don't stand to gain nearly as much as the NBA's owners from a new financial model. All they can really do is groan and moan publicly and lean as hard as possible on their NBA tenants behind closed doors.
Hat tip: InsideHoops.com