Posted by Royce Young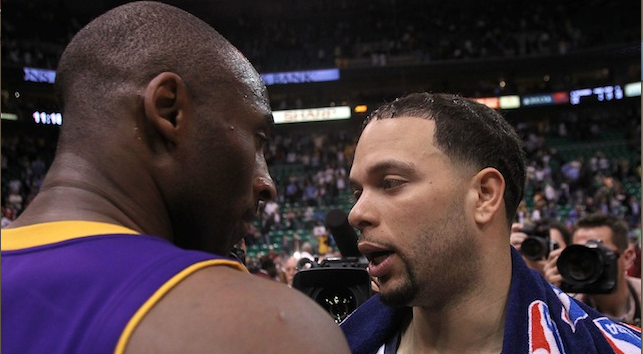 There have already been a few cautionary tales come out about what it's really like playing overseas, most notably from
Josh Childress
. The issue of travel, long practices, language barriers, not getting paid on time and a bunch of other things don't make it sound as wonderful as it seems.
And to just hammer that point home a bit more is
Rick Reilly's new column on ESPN.com
. He talked to a few players that have spent seasons playing in Turkey. You know, where
Deron Williams
has signed and where
Kevin Durant
and
Kobe Bryant
have been rumored to be in discussions.
It was about when one of his coaches chopped the head off a young goat for good luck that Jimmy Baron realized pro basketball in Turkey was unlike any hoops he'd ever played.

He was playing for Mercin of the Turkish Basketball League, the same league superstar NBA guard Deron Williams has agreed to play in during the lockout. They'd lost their first four games of the season and rumor was, if things didn't get better soon, heads were going to roll.

"The coach didn't speak any English," says Baron, a 3-point specialist from the University of Rhode Island. "But he motioned me to come out in front of the arena with the whole team. He put us in a circle and there's this goat standing there. All of a sudden one of the assistant coaches gets out this huge machete. And then -- whack! -- he cuts the goat's head off!"

The Turkish players immediately stuck their fingers in the blood of the neck and wiped it on their foreheads.

"Then they started motioning for me to do it," Baron remembers. "I'm like, 'You gotta be crazy!' And I got the heck out of there."
Well then.
Dwight Howard
can probably deal with it though because I'm pretty sure though that's how Stan Van Gundy kicks off his practices too.
But it's not only goat decapitations at practice. Fans are known to be a bit unruly. They make Philly fans sound like angels.
"I made a winning shot on the road one night," says former UCLA forward Josh Shipp, who plays for Galatasaray in the Turkish Basketball League. "And next thing you know, I was getting pelted with batteries, cell phones, you name it. I had to run for it. But that's nothing. I played with a guy who said they won a game on their rival's court once and the whole crowd rushed the court. They had to punch people just to get into the locker room!"
Eric Devendorf who played in Turkey for only two months before leaving said, "I'm never going back. No way."
Now I'm sure Deron Williams already knows all this. I'm sure Kobe, Durant, Wade and whoever else do too.
Allen Iverson
went to Besiktas and seemed fine with his experience. But it is going to be a harsh reality that playing there will be different than the pampered life of chartered flights and catered pre-game meals. Which is one reason why I think owners are willing to call this bluff with the superstars that are talking about it. They know the conditions too. And they know how NBA players feel like they're supposed to be treated.
At the same time, I'm sure these are extreme cases. I'm sure not every practice begins with a ceremonial goat decapitations. But I guess the point is, if you go play professionally in Turkey, you need to be ready for everything.