Posted by Ben Golliver.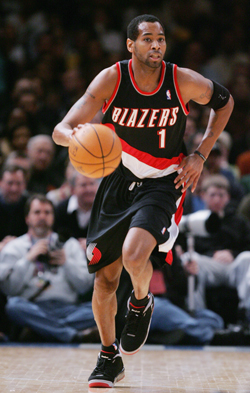 Former NBA player
Derek Anderson
is having his name spoken to police by just about the last person in the world with whom you would want to be associated.
Wave3.com reports
that Francois Cunningham, a Kentucky man who admitted to police that he was involved in purchases of kilograms of cocaine and that he
caused the deaths of two people
by allegedly throwing a molotov cocktail into their vehicle, is providing additional information into murders committed by his associates and the workings of the drug organization he was involved in as part of a "deal for early release."
In a taped interview with a police detective, Cunningham stated that former NBA player Derek Anderson bankrolled the drug operation.
Butler: "Was Derek Anderson ever present when you all bought narcotics?"

Cunningham: "Nah, he stays away from you know, he's just the money and he's not going to get around any of it but, that's who funnels the money."
The site notes that Anderson has not been charged with a crime in the case and that the police currently do not have any corroborating evidence.
Without question, Cunningham's claims should be treated with a certain degree of skepticism, as
Courier-Journal.com reports
that he had his charges reduced from murder to second-degree manslaughter in exchange for his cooperation.
Anderson denied "being involved in any illegal activity" through an attorney in
a statement to Courier-Journal.com on Tuesday evening
. The attorney further stated that Anderson would not make any additional comment himself.
A Kentucky native, Anderson won an NCAA title while at the University of Kentucky in 1996 and was selected in the 1997 NBA Draft Lottery by the Cleveland
Cavaliers
. Anderson played 11 seasons in the NBA, playing for the Cavaliers, Los Angeles
Clippers
, San Antonio
Spurs
, Portland
Trail Blazers
, Houston
Rockets
, Miami
Heat
and Charlotte
Bobcats
. He won an NBA title with the Heat in 2006.
Anderson, now 37, averaged 12.0 points, 3.4 assists, 3.2 rebounds and 1.1 steal in 29.2 minutes per game during his NBA career. He retired after the 2007-2008 season and
Basketball-Reference.com reports
that Anderson's career earnings topped $58 million.
Anderson's former teammate with the Portland Trail Blazers,
Zach Randolph
, has been at the center of a legal investigation this week as well, as a drug dealer in Portland, Or.,
told police
that he was assaulted at Randolph's home while he was trying to sell marijuana.
Hat tip: Kentucky Sports Radio