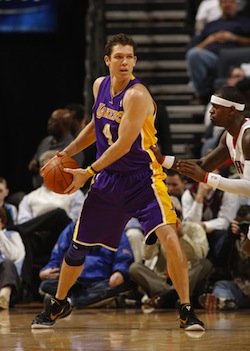 Posted by Royce Young
Finding a lockout job can be tough. Most players are looking overseas to play somewhere professionally.
Delonte West
might
work at Sam's Club
.
Kevin Durant
might
star in a movie
.
So it really shouldn't be all too shocking that
Luke Walton
is going to join the Memphis Tigers' coaching staff if NBA games are lost. From an official release:
Luke Walton, a member of the 2009 and 2010 NBA World Champion Los Angeles Lakers, has been recommended to join the Memphis men's basketball coaching staff, head coach Josh Pastner announced Monday. Walton's hiring is pending approval of the University and Tennessee State Board of Regents.

Walton was also a member of two other Lakers squads that advanced to the NBA Finals (2004, 2008). Of his eight seasons in the NBA, Walton's teams have made seven playoff appearances.

"Luke is going to bring great excitement and great energy to the Tigers program, and we're thrilled to have him," said Pastner. "Luke is someone who has not only played for but also learned from arguably one of the greatest coaches in basketball history in Phil Jackson. Luke's also played with and against the best-of-the-best at the highest level of basketball in the NBA, including being a teammate of one of the NBA's all-time greats in Kobe Bryant.

"Luke will be a great coach because he brings a wealth of knowledge and a winning attitude to the Tigers program. His experiences, which include playing in four NBA Finals and winning two NBA World Championships, are lessons that he can share with our players to help them grow and develop their games."

Walton, who has two years left on his contract with the Lakers through 2012-13, will remain on the Tigers staff until the resumption of the current NBA season.
The Tigers have been one of the top college programs over the past decade or so producing a heap of NBA players and (unofficially) finishing runner-up for the national championship in 2008. So for Walton, who clearly has aspirations to coach somewhere once his NBA career wraps, this is a great step in that direction.
Walton shouldn't have too much trouble finding a gig as his dad obviously knows people -- never a bad thing to be one of the favorite players of the greatest coach ever, John Wooden -- and playing in the NBA and being part of title teams helps.
Walton was a pretty darn good college player too at Arizona. He was an All-American in 2002 and a finalist for the Wooden Award. So he obviously knows and appreciates the college game. Whether he has a vision of coaching there or in the NBA is unknown, but like I said, it's a good foot in the door.
One thing I wonder: Is Walton going to be a little disappointed if the lockout gets lifted and he doesn't get to do his coaching gig? I kind of think he'd rather be yelling at college kids than having Kobe Bryant yell at him.