Posted by Ben Golliver.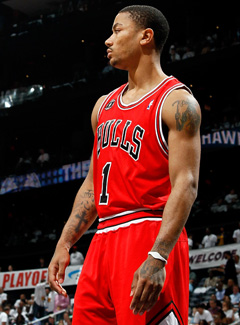 Another NBA MVP without a title to his name has seen fit to blur the line between confidence and cockiness.
In
an interview with HoopsHype.com
, Chicago
Bulls
point guard
Derrick Rose
, usually a humble mumbler, guaranteed that he will eventually own more than one ring.
"I won't be satisfied until I win a championship. I'm not satisfied at all. There's not a doubt in my mind that I'm not going to win a championship. I'm going win multiple championships. It's not a doubt in my mind."
Rose also said his Bulls are good to go as is and don't require any major additions, other than the added experience that came with their run to the Eastern Conference Finals last season.
"If everyone comes in and work on their game, I think that we have a good shot of winning without getting anybody to come to my team. I think everything was just so new… Last year was my first time getting past the first round of the playoffs. Everything was just new to everybody, and that thing is gonna help us. Last year was the base for our team and the sky's the limit for us."
If this cart before the horse proclamation sounds familiar, it's because we spent the last year excoriating Miami
Heat
All-Stars
LeBron James
,
Dwyane Wade
and
Chris Bosh
for throwing a pre-season parade at which James, who has never won a championship,
predicted the trio
would win "multiple championships" and said that games would be "easy".
Because James is James and Rose is Rose, any outcry over these quotes will pale in comparison to the criticism that the Heat took for their presumptuousness last year.
There are some major, legit circumstantial reasons for that. There wasn't a free agency pursuit or "The Decision" prior to these comments. Rose made his statements overseas while on a tour rather than at a preseason parade. Rose, at 22, is younger than James was last summer (25). The NBA is heading towards a work stoppage rather than its most anticipated season in years. Rose's comments sound more like he's trying to pump himself up rather than shove his greatness in everyone's face. And, perhaps most importantly of all, Rose didn't say, "not two, not three, not four, not five, not six, not seven" in counting off how many titles he planned to win.
Despite all of that, the same premise underlies the statements from both players. In Rose's eyes, he's ascending to a place where he will leave a lasting mark on the league. For that reason, both players fell victim to the same mistake. Focus on the first title and let your winning do the talking.
Hat tip: ProBasketballTalk