Posted by Ben Golliver.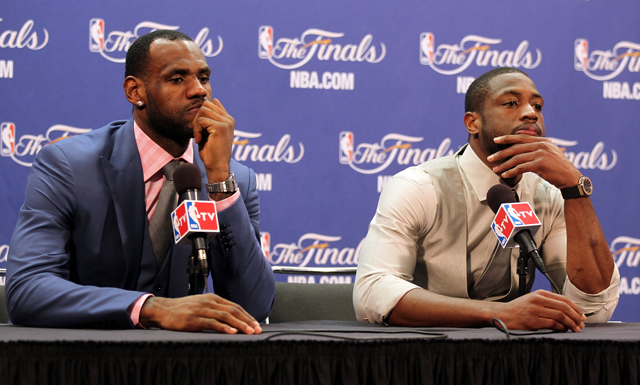 Don't bother with condolence cards or bouquets of flowers. We've learned at least one thing during the NBA lockout: NBA superstars today prefer suffering in silence.
Miami
Heat
All-Star forward adds his name to the list of All-Stars who transformed into shut-ins following their elimination from the 2011 NBA playoffs.
"It was the worst week I ever had,"
James told HoopsHype.com
when asked about the week following his NBA Finals loss to the Dallas
Mavericks
. "I hate losing."
And what did he do to pass the time?
"I did nothing," James replied. "Nothing at all."
James' comments mirror those made
to the Sun-Sentinel back in July
by his teammate, Heat All-Star guard
Dwyane Wade
.
"The sting is always going to be there when you lose," Wade said at the time. "Obviously, it was my first time ever losing the Finals. The sting is there, no question about it."
Wade also admitted that he purposefully avoided watching basketballl on television.
"I haven't watched ESPN in a long time," Wade added. "It's still hard to watch basketball."
It wasn't just the Heat who took their elimination hard. NBA MVP
Derrick Rose
, whose Chicago
Bulls
were eliminated in the Eastern Conference Finals by Miami, said
in a Yahoo! Sports interview
that he locked himself in his house after losing.
"Being that close [to the NBA Finals], and not getting it, hurt," Rose said. "I just stayed inside the whole time. I didn't go anywhere else. I wore pajamas, watched a lot of movies, drank Powerade and got delivery food."
Three players at the top of the game with three distinct personalities all responding to losing in the same way. It's no great revelation, but it is interesting.
I suppose it shouldn't be surprising. With the physical toll of a long season, the disappointment that goes with falling short of a goal, the increasingly intense media scrutiny and the heavy travel schedule that comes with the playoffs, the default setting at the start of the offseason for players asked to play huge minutes and carry the load on offense would be recuperation. Not to mention, licking wounds is usually a very personal endeavor.