Posted by Ben Golliver.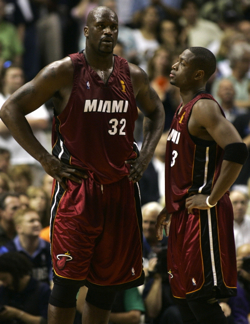 If you're like me, you read the extensive accusations levied against the University of Miami last week -- charges of arranged prostitution, millions of illegal benefits, strip club parties and the like -- and wondered one thing: Where are the professional athletes in this picture?
While dozens of University of Miami football players were implicated by jailed ponzi schemer Nevin Shapiro in the
Yahoo! Sports article,
there was really no mention made of the presence of professional athletes. Given how hard Shapiro's boostering allowed the Hurricanes to party, it was a touch surprising there were no cameo appearances from members of the
Heat
, Dolphins, Marlins or Panthers. Those circles certainly must have crossed on a yacht, in a strip club or at a luxury hotel at some point, right?
The
Miami Herald reports
that Brian D. Elias, a bowling alley operator and friend of Shapiro's, said that Shapiro's social circle did include two prominent members of the 2006 NBA Champion Heat: guard
Dwyane Wade
and center Shaquille O'Neal.
"[Shapiro] would go [to Elias' bowling alley] virtually every weekend to watch college and pro football," Elias said. "It got to a point where we would speak every time I saw him there. We became friends. He may not have been tall in stature. But he had a huge personality. Everybody liked him. People gravitated to him, I'm not talking about football players, I'm talking about people in general. He liked to brag about not just UM [players], but anybody, playing around with Dwyane Wade, Shaq, the Chief of Police. He never ever, ever, mentioned to me he had a tournament bowling for dollars at Lucky Strike in all the times I knew him."
The nice thing about being a professional athlete is that the artificial barriers to enjoyment and excess imposed by the NCAA simply don't exist. Making it rain at a strip club with stock market titans is just another day in the week. Sure, compliance officers are replaced by the paparazzi, but, all things considered, that's not the worst trade in the world. As long as you conduct yourself as something resembling a gentleman and pay your tab, the threat of future lawsuits or NCAA violations don't cross your mind or kill the buzz.
All things considered, this is a shaky secondhand link. Knowing Shapiro, though, you've got to wonder whether he's got three boxes full of pictures and autographed photos. One wonders if this is the tip of the iceberg or if this will prove to be an isolated statement by an associate. It could always have been a lying boast by Shapiro in the first place, too.