Posted by Ben Golliver.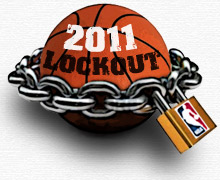 Nobody likes math anymore but this is kind of important.
There are a bunch of ways to measure data in a group. If you're looking for a simple average, that's called the mean. Add up everyone's values and divide by the number of people. Easy. If you're looking for the middle, though, that's called the median. Line everyone up in order from smallest to largest and stop when you get exactly to the halfway point.
What's the difference? Mean is used far more often because it's very easy to calculate and understand. But median more accurately reflects the middle value in sets of numbers that have extreme values on one end of another that might skew things.
Knowing both numbers is always better than knowing either one or the other, and that holds true when it comes to NBA salaries.
NBA.com smartly investigates
this issue because the average player salary -- $5.15 million -- has come up over and over in comments concerning the NBA lockout. That's a lot of money for anyone to make!
Of course, we all know that that figure is inflated by the vastly superior sums made by superstars (or players paid to perform like superstars). If we're talking about an "average" NBA player in terms of skill, we all probably assume he's making less than that $5 million figure. NBA.com crunched the numbers to confirm that suspicion.
In the NBA, using USA Today salary figures for the 2009-10 season, the estimated median salary was about $2.33 million. That's still about 46 times what the median U.S. household earns, but it is less than half what the max-salary-bloated "average" is.
As you might expect, the owners and players have reasons to prefer opposite measurements. The players side might prefer the median salary because it reflects what the middle class is taking home; the owners prefer the mean salary because it better reflects their overall costs.
"It's the median salary that's more important," NBA agent Bill Duffy said. "Look at the Miami Heat as an analogy here: You've got three guys making $17 million and probably six guys making $1.2 [million]. So that's a little misguided, that average salary."

"We use [average] because it's the most commonly used measure and best reflects the amount of compensation that the NBA provides to players across the league," an NBA spokesman said this week. "In addition, it's the measure that both we and the union agreed upon in the CBA."
In truth, no statistical measure is really "more important" in accurately assessing the financial landscape of NBA salaries. Surely both numbers are useful and readily available to the lawyers and accountants who will eventually hammer out the details of the next Collective Bargaining Agreement.
Knowing both is significantly better than knowing just one. Knowing both numbers, as we do now, helps protect us from the misinformation or incomplete information that statistics can be lured into presenting by those with an agenda on either side. So now you know. The "average" NBA player is extraordinarily rich, but less than half as rich as the NBA has led you -- intentionally or not -- to believe up to this point. And he has his super-rich superstar teammates to blame for that too.