Posted by Ben Golliver.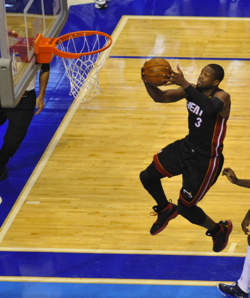 This weekend, Miami
Heat
All-Star guard
Dwyane Wade
hosted a fantasy basketball camp for a bunch of adults who wish they could play like him.
The Associated Press reports
that all Wade could think about were the two guys who he wishes he could play like: Chicago
Bulls
guard Michael Jordan and Los Angeles
Lakers
guard
Kobe Bryant
.
"I've done a lot of great things in eight years. So what?" Wade said. "I've got to figure out in the next wave of my career, how do I get better? ... In my mind, I have what I feel is a next level. And I have a blueprint in front of me. I have the Michael Jordans of the world. I have the Kobe Bryants of the world. I have these guys that are showing what's the next level."

And he said his teammates with the Heat, especially LeBron James and Chris Bosh, will join him in a quest to keep improving - which is what he was trying to teach his campers how to do.

"The only way the Miami Heat gets better is if individually I come back better, if individually LeBron comes back better, if individually Chris comes back better," Wade said. "So going forward, I know that every year, my role might change. At the end of the day, it's about team success. Individual success, I've had it, I've done it. Team success is way better."
Wade is 29 years old, that magical point where an NBA player generally reaches his athletic apex and has the right amount of experience to get the most out of it. While his career has been sensational to this point, the next two seasons represent Wade's prime, even if his numbers might be compromised to some degree because he plays with two All-Stars now in James and Bosh.
In other words, this really is winning time for Wade. By comparison, at the same age, Bryant was about to embark on back-to-back NBA titles after losing to the Boston
Celtics
in the NBA Finals. Jordan, meanwhile, was just putting the finishing touches on his first three-peat, about to take some time off to play baseball before putting together another three-peat.
We noted a few weeks back
that Jordan is essentially out of reach for Bryant to catch him. That goes for Wade too. Unless the Heat are capable of putting together a massive dynasty unlike anything the modern NBA has seen, Wade won't be able to catch Jordan in the winning department and earlier injuries virtually ensure he can't catch Jordan on the statistics front.
Bryant is an excellent model for Wade, though. Both went through mid-career swoons after early success, although Wade's one title certainly wasn't quite the same as Bryant's three-peat. Both waited patiently (or impatiently) for a new cast to assemble, one loaded with talent and more than capable of bringing home the hardware. Each suffered a Finals defeat -- Bryant to the Celtics, Wade to the
Mavericks
-- as the group got its postseason bearings. Bryant then brought home two more titles while Wade and the Heat appear to be the odds-on favorites to win the next two titles.
There's a lot at stake here. If the Heat manage to roll off a three-peat, Wade vaults into the conversation as the best two-guard not named Michael Jordan. If he's only able to net one -- or, in a worst case scenario -- if the Heat can never assemble the right scrap parts around the Big 3, history isn't likely to treat him nearly as kindly. It's unusual for a player as skilled and successful as Wade to have such a wide range of possibilities for his legacy this late in his career, but that's the situation facing him.
And that's why he's putting the onus on his team's improvement on his own shoulders.