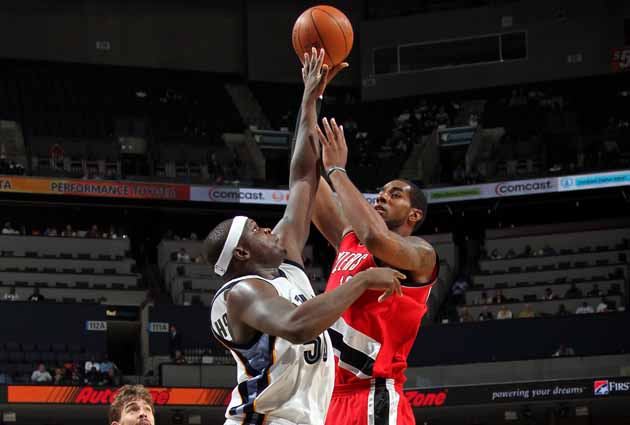 By Matt Moore


This is the eighth segment of the CBSSports.com Eye on Basketball Elite 100, counting down the top-100 players in the NBA.
Check out the earlier installments: 100-91 | 90-81 | 80-71 | 70-61 | 60-51 | 50-41 | 40-31 | 30-21
Try ranking just the best power forwards in the league in your head. Really. Now go back and look at their numbers. Then go back and rerank them. Then factor in their team success. Then look at their ages and upside.
The point is, this is not easy, and that's before you try and stick them in among the best players in the league at all the other positions. Power forwards are elite right now in this league. Trying to determine who's better is nearly impossible. But that's what we've tried to do in this list and this section gets to the hardest part.
Zach Randolph
dominated the playoffs.
Tim Duncan
is a Hall of Famer.
LaMarcus Aldridge
was just brilliant.
Amar'e Stoudemire
was an MVP candidate for a brief time.
What do you do?
In between we've got
Steve Nash
, one of the best point guards ever,
Deron Williams
who's at the top of his game,
Russell Westbrook
who everyone loves and hates at the same time, and you know, Melo.
20. Steve Nash, G, age 37, Phoenix Suns2011 Stats: 14.7 points, 11.4 assists, 3.5 rebounds, 49.2 FG%, 20.81 PER, 53.1 AST%Composite rankings (random order): 25, 16, 18
The guy's 37. Thir-tee-sev-en. And yet last season Steve Nash averaged more assists per 36 minutes than he has in his career. He posted 53 percent of the Suns' assists. Which means if there was a bucket off a pass on the floor, more often than not it was Steve Nash making it. That's crazy production for his age. Nash continues to be a lightning rod as the Suns fall further and further away from contention. His defense has never been good due to a combination of physical limitations and a back condition that has forced him for years to lay flat on his stomach on the sideline. But his offense is showing signs of slowing down, despite all the slinging. Nash finally posted under 50 percent field goal shooting for the first time since he came to Phoenix last year, and shot under 40 percent from three for the first time since 1999. So he's "only" a 49 percent shooter, 39 percent 3-point shooter. But the bigger point is that Nash is starting to slip.
This is why so many want Nash traded. His time is running out to be effective, though with his conditioning, it's easy to see him playing till he's 40. But for him to be effective as a starter, to hold a shred of "Nashness" in him, he's got to get moved to a contender soon. But if he doesn't, it wouldn't shock anyone to see him make a comeback year next season.
19. Manu Ginobili, G, age 34, San Antonio Spurs2011 Stats: 17.4 points, 4.9 assists, 3.7 rebounds, 1.5 steals, 43.3 FG%, 21.78 PERComposite rankings (random order): 20, 15, 20
Manu Ginobili was a legit MVP candidate the first two months of the season. Being a legit MVP candidate for even a week should probably earn you a higher ranking than this, but such is the cost of a perceived slip as the season went on. At his best, Ginobili is a game-changer and one of the most reliable clutch performers in the game. His step-back elbow jumper is still deadly, and if that doesn't get you, the pump-fake will. Ginobili at full-health would probably have made a big difference in the Spurs' round-one loss to Memphis. (But given that he couldn't guard Zach Randolph or
Marc Gasol
, probably not enough of one.)
Ginobili's slide will only continue as age and injury slow him down. He says he has a few more years left in the league. But his craftiness will only take him so far, which is why he isn't higher on this list. But given how many years he's been near the top of this list, that's not a bad career. And in the meantime, he'll keep drawing fouls and hitting big shots as the Spurs continue to try and suck the life out of the remainder of their contending years.
18. Kevin Love, F, age 22, Minnesota Timberwolves2011 Stats: 20.1 points, 15.2 rebounds, 2.5 assists, 47.0 FG%, 24.39 PERComposite rankings (random order): 15, 24, 13
Hello, power forwards. Kevin Love broke the record for consecutive double-doubles, had the first 30-30 game, showed terrific offensive range, dominated the glass, out-rebounded
Dwight Howard
and became an All-Star. And he's only the 18th best player on this list, and the fifth best power forward in this section!
Love's biggest liabilities are on the defensive end. He's still learning, so the hope is that he'll improve. Conditioning and health will both be important to that end with his frame, but neither are concerns with Love. With a coach that will hopefully appreciate him and a new system and point guard to work with, it's a good bet that Love will be in the top fifteen by the end of next season. His range makes him a versatile component, he's looking for his first big deal (good luck with that under the new CBA next season), and to boot, he's one of the most likeable players in the league.
Odds are this is the last time he'll bethis low again.
17. Tim Duncan, F, age 35, San Antonio Spurs2011 Stats: 13.4 points, 8.9 rebounds, 2.7 assists, 1.9 blocks, 50.0 FG%, 21.94 PERComposite rankings (random order): 13, 19, 18
What loathesome thing age is, that robs us of our strength but not our integrity. Tim Duncan wasn't the same player last year. I mean, he was, but he wasn't. This is the problem. For players of Duncan's greatness, there's no huge cliff they fall off, its'a slow decline. But they're also held to a different standard. And as a result, Duncan slides down this list. Most jarring was the absence of a dominant Duncan performance in the playoffs. The
Grizzlies
managed to harass, muscle, and frustrate Duncan to the point of limiting his effectiveness. And as Duncan goes, so do the Spurs.
Duncan logged 76 games last season, missing just six games. The question is if he can have a bounce-back season after having a considerably healthy one in 2010-2011. The Spurs need a vintage Duncan performance all season long, but the reality may be that after so many playoff games early in his career, he may simply not have enough tread left on the tires. Why is he still this high? Because he's Tim Freaking Duncan, and he's earned the right for us to trust in him until the very end.
16. Deron Williams, G, age 27, New Jersey Nets2011 Stats: 20.1 points, 10.3 assists, 4.0 rebounds, 1.2 steals, 43.9 FG%, 21.19 PERComposite rankings (random order): 22, 18, 9
Deron Williams, Coach Killer? Didn't see that coming.
Williams had a good season. He did. 20 points, 10 assists, good PER, solid defense. The
Jazz
had a pretty decent start before the wheels came off. Then, you know, Williams may or may not have been the driving point behind Jerry Sloan deciding to pack it up after 25 seasons with the Jazz. Then, you know, Williams was traded to the Nets before he could hold the Jazz hostage like Melo did the
Nuggets
. Then, you know, he was a Net. Which causes trouble.
Williams turned 27 in June, so he can no longer be considered a "young" point guard. There's only so much room for improvement at this point. And he's still very good, and will fetch a huge price on the market. But you have to wonder if 2010-2011 was a career marker for Williams and if that will make an impact on where he ends up. The good news? He gets into free agency in 2012. Either the Nets will build around him with top talent, or he'll have a chance for a mulligan at 28.
15. Carmelo Anthony, F, age 27, New York Knicks2011 Stats: 25.6 points, 7.3 rebounds, 2.9 assists, 45.5 FG%, 21.82 PERComposite rankings (random order): 17, 17, 13
You want to rank Carmelo Anthony in the 20-30 range? Fine. 30-40? You're getting out there. 1-10? We're not going to riot. You can spot Melo anywhere, it just depends on where your priorities lie.
Is Melo's defense lacking? Absolutely. Is he often-times too inefficient to the point that it hurts his effectiveness? Yes. Is his attitude sometimes an issue in terms of the superstar approach? Yes, but it never impacts his play (through everything in Denver, he never missed a game or gave a half-effort). The reality is this.
Carmelo Anthony still nets you 26 points per game, seven rebounds per game, will hit you a game winner more often than not, and can help win you games. He is not the most effective, most efficient, or most versatile. There is a lot that he needs to improve. But Carmelo Anthony is still an elite player in this league, and he needs to be ranked accordingly. He's here for now. If the Knicks keep building around he and Amar'e and if the two start working together better, he'll be among the best of the best. For now, we leverage his upside, his production, his efficiency, and his record.
Then we docked him five slots for his reality show.
14. Russell Westbrook, G, age 22, Oklahoma City Thunder2011 Stats: 21.9 points, 8.2 assists, 4.6 rebounds, 1.9 steals, 44.2 FG%, 23.63 PERComposite rankings (random order): 16, 16, 11
I'd love to give you an in-depth analysis of Westbrook, but the polar opinions of him rend any attempt apart.
Westbrook has a higher PER than Deron Williams. He's hyper-aggressive and can take games over. The comparison always made to him is
Derrick Rose
if he didn't have
Kevin Durant
needing the ball. But one, he's not as good as Derrick Rose, and two, he
does
have Kevin Durant needing the ball. Westbrook too often puts his head down and slams into the defender causing a turnover, too often is impatient with the offense and too often trusts his ability to dominate. Thing is, he can dominate more than half the time.
Westbrook's explosiveness and speed is top three in the league. His jumper's improved but hasn't made a phenomenal jump. The big question for next season will be what his role is with
James Harden
as more of a weapon and playmaker. Is Westbrook just a scoring point who can also provide some buckets, or can he use another weapon to be more efficient. It's a technical and mental adjustment that needs to be made.
13. LaMarcus Aldridge, F, Portland Trail Blazers2011 Stats: 21.8 points, 8.8 rebounds, 2.1 assists, 1.2 blocks, 1.0 steals, 50.0 FG%, 21.57 PERComposite rankings (random order): 12, 14, 14
Aldridge was arguably more important to his team than any of the players 12-10. He was huge in 2011. Aldridge is also the most versatile of any power forward in the league. Yeah, there, I said it. He's tough defensively, he's brilliant in the post, he's got great pick-and-pop ability, is a good rebounder (though if we're saying that, so is Amar'e Stoudemire, who has a 12.7 TRB percentage to Aldridge's 13.5).
Aldridge was the anchor for the Blazers who kept them afloat among the injury sea they sailed last year. He's always been overlooked for Roy, but he's also never been a problem in the locker room. He plays smart, tough, and efficiently. Oh, and he plays defense. Nice rare quality in power forwards, that.
12. Zach Randolph, F, Memphis Grizzlies2011 Stats: 20.1 points, 12.2 rebounds, 2.2 assists, 50.3 FG%, 22.67 PERComposite rankings (random order): 17, 11, 11
Dominates the glass, puts the team on his back, shoots better than 50 percent from the field, creates more possessions, and delivers when his team needs him. That's a franchise player. And as good as
Rudy Gay
is, that's what Zach Randolph has shown himself to be for Memphis. His performance in the playoffs is what lands him above Aldridge, Love, and Duncan. A stats-only loser for so many years, Randolph not only found the playoffs last season, but owned them. His performance in both Grizzlies' series was out of this world. If making the Finals weren't a prerequisite, Randolph was arguably the playoffs MVP behind Nowitzki (which is probably why Nowitzki won the title).
Randolph's defense is not good, but just like his athleticism, he manages to hide it with savvy. He brings smart help, and communicates well. Randolph's intangibles are almost as great as his numbers. He's a consumate leader, always picking up guys who fall to the floor, and being the emotional rock for a pretty emotional team. As unlikely as it is, Randolph's as valuable as it gets to any single team.
He's getting older, so this is probably the last time he'll be this high. But it's been a fun ride for Randolph with the Grizzlies and he deserves the respect.
11. Amar'e Stoudemire, F, New York Knicks2011 Stats: 25.3 points, 8.2 rebounds, 2.6 assists, 1.9 blocks, 50.2 FG%, 22.78 PERComposite rankings (random order): 14, 12, 10
We don't blame you for gawking at this. I scored him a 12, truth be told, and even I am sick just thinking about it. Stoudemire is a pretty solid help defender, except no one will believe that. That's where those 1.9 blocks come from. Again, not good, but solid. But man-up? Bad. Really bad. Not good. At all. Stoudemire will never be confused for a defensive stalwart. His rebounding is sub-par. He's got knee concerns and an eye condition following a pretty horrific injury that required surgery. On his eye.
But he's at this spot because Stoudemire can kill you from the elbow, and if you crowd him, he's going to the rim. He plays aggressively, efficiently, and can deliver. He lost his former-MVP point guard and still produced 25 points per game, and that's even after Melo came in a-gunning. He produces a world of offense and that still counts. As much as the statistical revolution and advanced analysis emphasizes defense, it tends to overlook offense, especially from bigs. The Knicks will never hurt for inside scoring as long as Stoudemire is on the floor. That shouldn't be overlooked. Neither should his defensive liabilities, but his offense out-performs it enough to land him here.
We think.