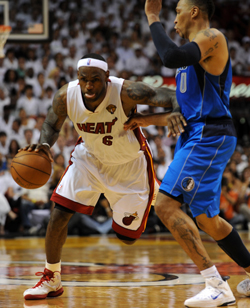 By Matt Moore
From the department of "things which do not surprise us in the slightest" comes news of a survey from Ipsos of over 2,000 U.S. adults which did a ranking of unpopular famous people, barring politicians. The result?
LeBron James
is the most unpopular NBA player and second-most unpopular athlete behind Tiger Woods .
At the other end of the spectrum, only two of the 100 celebrities asked about were viewed unfavorably by an outright majority of respondents: Paris Hilton (with 60% expressing an unfavorable opinion of her vs. only 12% a favorable one) and Charlie Sheen (52% vs. 22%). The next most unpopular personalities among those rated are: Britney Spears and Kanye West (each of whom is viewed unfavorably by 45%), Arnold Schwarzenegger (44%), Tiger Woods (42%), Kim Kardashian (38%), Mel Gibson (33%), Donald Trump (31%), and LeBron James (29%).

Several of these 10 personalities – Tiger Woods, Charlie Sheen, Paris Hilton, Britney Spears – are more widely disliked by women than they are by men. The others show relatively comparable proportions of male and female detractors.
via
Betty White Is America's Favorite and Most Trusted Personality, and the Most Prone to Driving Brand Purchase | Ipsos
.
That's right. The only more unpopular public figures are one of the Hilton sisters, that one guy, Britney, the guy who messed with America's sweetheart multiple years ago (somehow I don't think "Watch the Throne" affected this sample much), the scandal-ridden Governator, the sex addict golfer who can't win a major, Lamar's sister-in-law, Mel with his whole problem, and Trump. Great comany.
Bryant actually came in on the most distrusted list, which isn't a shock, either. Just interesting to see how James has garnered so much revenue for the
Heat
and the league and yet is so unpopular. Just another indication that people really do love to watch to root against him.