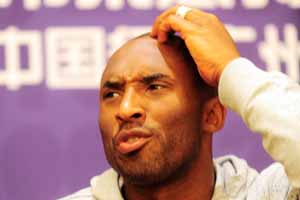 By Matt Moore
On Thursday morning, Eastern time, Chinese
outlets started reporting
that
Kobe Bryant
had signed a deal with the Shanxi Zhongyu of the CBA. The move would send ripples throughout the basketball world as the most iconic NBA player would be playing overseas in a lucrative market. Finally, a big star beyond
Deron Williams
has agreed to play overseas.
Or... not.
Sports 163 along with multiple outlets
are now reporting that at the CBA meetings, the league approved a rule to block outright any NBA player currently under contract with the NBA from playing in the CBA. That gets around
previously discussed loopholes
to proposed rules to block opt-outs. If you say outright you can't sign any player, no under-the-tables deals can be adopted.
It also closes off one of the most attractive options for players. Not only are they revered in China like no other country on Earth, but the marketing potential is through the roof due to the companies and population. Bryant, for example, has made huge strides in his global brand by expanding to China. With Yao Ming out of the picture, China represents a wide-open market. This hurts the players' efforts to provide leverage by signing overseas. Bryant was just the biggest name. More players were likely looking for the opportunity.
For China, this is at once a terrible business decision and typically Chinese. It's a different culture, and with the CBA managed by the government, the protection of their culture is foremost. There's a matter of pride over not wanting to rent players for a few months only to have the lockout end and them abandon the CBA. At the same time, it would have done so much to encourage interest in the league and raise money which could be devoted to development there. It's a reasonable position, even if it is disappointing for basketball in China overall.
The NBA will have no comment, naturally, but is likely nodding with a slight grin.
(HT:
HoopsHype
via
IAmAGM
.com)