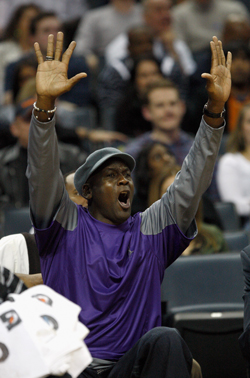 By Matt Moore
So the NBA has this thing they're pretty particular about. They
don't want anyone
on their side of the table talking about players. Not coaches, not PR reps, not trainers, not management, not owners, no one. It's a total gag rule. They've threatened massive fines for violations of this rule from David Stern, and David Kahn
has reportedly felt the wrath already
. Now? It looks like the Greatest of All-Time is headed for a lightening of his wallet. Michael Jordan spoke with Australian newspaper the
Herald Sun
and had a nice long chat with them about the lockout, what the owners want... and
Andrew Bogut
.
"We have stars like Bogut who are entitled to certain type of demands. But for us to be profitable in small markets, we have to be able to win ballgames and build a better basketball team."

"Bogut is a good piece to build around for Milwaukee," Jordan said.

"I love Bogut's game. He's made a very good start and he's definitely gonna be a star. His big problem is that he's been dealing with that elbow injury. But he is a star to be reckoned with (and) will be a star for some time."
via
Michael Jordan airs Andrew Bogut issue | Herald Sun
.
That's three different mentions of He Who Must Not Be Named Along With The Rest Of His Union. This in addition to Jordan talking not only about the owners' goals in the lockout, but about revenue sharing. That's not going to make the Commissioner happy,
even on his vacation
.
The whole rule seems a little silly. You don't want to compromise your bargaining position, sure. But Jordan made a comment about a man who exists to a newspaper in the guy's home country. He's not giving up the farm in negotiations (though talking about how important revenue sharing is when the owners want to keep it off the table until the rest of the CBA is settled is probably not the most favorite thing for the NBA). There shouldn't be any big deal about this.
Then again, that's kind of what's been going on with this lockout. Making everything into a huge deal.
(HT:
SI
)