Posted by Ben Golliver.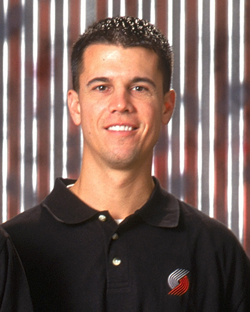 The next victim has not yet been identified.
The Oregonian reports
that the Portland
Trail Blazers
, who fired two GMs and a vice president of basketball operations in less than 14 months, have decided that Acting GM Chad Buchanan, who was installed when former GM Rich Cho was canned back in May, will not be given the title permanently.
Interim GM Chad Buchanan is no longer a candidate to become Blazers GM permanently. Blazers President Larry Miller says the Blazers are looking for a candidate with GM experience or with extended time as a No. 2. Buchanan will remain with team and both he and Miller said they would like him to be a part of organization no matter who is hired as GM.

Buchanan will help Miller with his GM search and has already suggested "a couple" candidates. Miller told Buchanan the news Friday and Buchanan, who replaced the fired Rich Cho on May 23, handled it in stride."They'd like someone with more experience. I totally understand that," Buchanan said. "I wasn't shocked."
In an unusual move, the
Blazers deposed Cho
just weeks before the 2011 NBA Draft, installing Buchanan and allowing him to run the draft night operations. It was an active night for Portland, who traded last year's starting point guard
Andre Miller
to the Denver
Nuggets
for next year's starting point guard,
Raymond Felton
, and selected Duke University guard
Nolan Smith
in the first round. Reserve guard
Rudy Fernandez
was moved to the Dallas
Mavericks
to facilitate the Felton deal as well.
Aside from those trades,
the only headlines Buchanan made
during his brief "Acting GM" reign came from comments about the NBA's canceled Las Vegas Summer League, which resulted in a reported threatened fine from the league office.
The baby-faced Buchanan is as well liked as executives get in the NBA but his background is as a scout and talent evaluator and not as a contract negotiator or salary cap expert. Portland's crowded front office includes Miller, Buchanan, two assistant GMs and director of pro scouting Mike Born. There's no shortage of opinions on players but the organization is in need of a salary cap expert and an experienced negotiator with connections around the league.
There are no known candidates for the position at this time, although Miller
told CBSSports.com back in June
that no former Blazers executives would be considered for the position.
With mercurial and moody owner Paul Allen, though, whoever takes the job will be on an exceedingly short leash and will be hopping into a fire of great expectations. The upshot is that Allen's pocketbook is seemingly always open, whether that's to finance free agent signings, buy draft picks or pay severance to middle managers who don't guide the Blazers out of the first round of the playoffs.