Posted by Ben Golliver.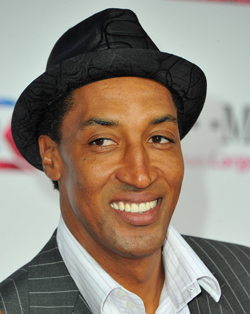 Scottie Pippen should have left the flying to Michael Jordan.
Instead, Pippen got caught up in the superstar lifestyle of his significantly richer former Chicago
Bulls
teammate, attempting to own a personal airplane. Pippen even went so far as hijack Jordan's "Air" nickname to name his company "Air Pip" and has paid with years and years of lawsuits and legal red tape after getting fleeced out of millions of dollars in the venture.
The South Florida Business Journal reports
that Pippen did score a legal victory on Tuesday, winning a judgment of more than $2 million against a Miami businessman involved in the mess.
Former NBA basketball star Scottie Pippen has won a $2.37 million judgment against a Miami businessman, Craig Frost, and a Miami company, CF Air.

Pippen, who has a home in Fort Lauderdale, and his wife, Larsa Pippen, filed suit against Frost in 2007 regarding Pippen's disastrous ownership of his own airplane through a company called Air Pip.

The final judgment against Frost was recently registered in Miami-Dade Circuit Court. It said Frost had agreed to a confidential settlement in September 2010, but had failed to pay Pippen under the terms of that settlement.
This is one of those lawsuits where, even though you've win, you're still a loser because 1) you spent (or committed to spend) all that money in the first place so you're just undoing your own previous mistake 2) it was a terrible idea in the first place 3) no business named "Air Pip" will ever succeed on this planet 4) you're unlikely to recoup the money if this guy hasn't paid you back yet and 5) you probably have some pretty significant lawyer fees to serve as the cherry on top.

Scottie Pippen? More like Scottie Pyrrhic, now that I think about it. Let this be a lesson, kids. Do not purchase your own airplane.