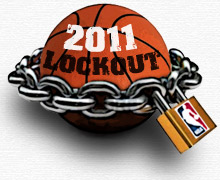 Posted by Royce Young
It took 46 days for the NBA and its players' union after the lockout began July 1. It didn't go all that well. Rhetoric from both sides ramped up, lawsuits started flying around and most importantly, there wasn't any movement towards the middle. Then David Stern accused the union of cancelling a meeting last week with the union responding that Billy Hunter had been told Stern wasn't going to be available for two weeks.
So as you can tell, this is all going just super.
But they're finally going to try again sometime in early September,
according to Newsday
.
At this point, the union will host an executive meeting in New York at the end of August. The anticipation is the union and league will sit down again in early September, perhaps before the Labor Day timeline that Stern set.
What's this timeline? Well,
on the B.S. Report
, Stern suggested he'd know if the NBA schedule would be affected by Labor Day. I know you've already got it circled on your calendar, but Labor Day is the fifth of September. So they best get to meetin'.
Stern did express a good amount of optimism though on the podcast, saying he thought a deal would get done. I tend to lean that way too. I think concessions will be made soon enough by both sides. But here's the thing: It better start happening in this meeting in September. It's probably the most crucial one to date. If there isn't any advancement then, the preseason games and training camps, which start in late September, will absolutely be in jeopardy.
The only way both sides are going to reach an agreement is if they meet. Which honestly they haven't done near enough of to this point. Just once almost two months, with all that came out of that being mudslinging and accusations? Not acceptable. Something better has to happen in this September meeting or what remaining drops of optimism there are will evaporate.
Via SB Nation