Posted by Ben Golliver.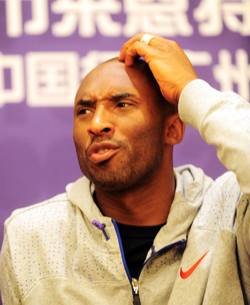 During the ongoing NBA lockout, the grass appears to be greener on the other side of the Great Wall of China.
Aside from Turkey, which put its money where its mouth is to land New Jersey
Nets
point guard
Deron Williams
, China has generated the most buzz in potentially landing NBA All-Star caliber players should the lockout result in a work stoppage. The only potential hold up would be if the Chinese Basketball Association followed through on
a reported desire
to institute a ban on signing players to contracts that include opt-outs that would allow them to return to the NBA if the labor negotiations are resolved.
That brings us to Los Angeles
Lakers
All-Star guard
Kobe Bryant
who, with Miami
Heat
All-Star forward
LeBron James
reportedly not interested in playing overseas, is far and away the most coveted and marketable star on the international market.
After Bryant
reportedly walked away
from the possibility of joining forces with Williams for Besiktas in Turkey because their offer wasn't sufficient,
Yahoo! Sports now reports
he is weighing potential offers from China that would pay him more than seven figures per month.
The Los Angeles Lakers' Kobe Bryant has offers north of $1.5 million a month to play in China, and sources say he'd be inclined to accept a contract except for the one immense hurdle standing in his way: Chinese Basketball Association officials will likely pass a rule in the middle of this week forbidding the signing of players with NBA opt-out clauses.

Bryant's stature and popularity make him unique, and teams have shown a willingness to meet his demands to play in China. Nike is motivated to get him on the floor, too. Bryant pushes product in the Far East, perhaps unlike any of his peers. Bryant believes he can be patient, wait for these Chinese and European markets to unfold, and make a decision about playing overseas on his own timetable.
Bureaucracy in China has swallowed much bigger fish than Bryant but the prospect of NBA players in the flesh would be such a tantalizing proposition for the country as a whole -- not to mention its economy -- that some sort of compromise could be worked out.