Posted by Royce Young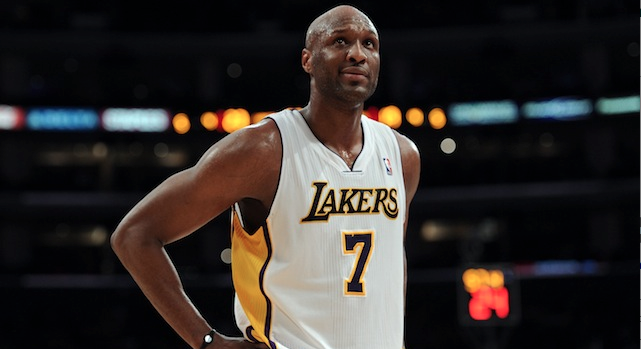 This is the seventh segment of the CBSSports.com Eye on Basketball Elite 100, counting down the top-100 players in the NBA.
Check out the earlier installments: 100-91 | 90-81 | 80-71 | 70-61 | 60-51 | 50-41
Once you break the top 50, you start getting good players. Former All-Stars, solid veterans and some up-and-comers. But the top 40, that's when you start breaking into some legit talent. Last season's Sixth Man Lamar Odom. A young stud Eric Gordon. A new champion in Tyson Chandler. Talents like Rudy Gay, Andre Iguodala, Monta Ellis and Marc Gasol. It's not a list full of superstars, but there's no denying these guys are good. With a bunch of guys that easily could make a leap at any moment.
As such, we march on towards No. 1 with 40-31.
40. Gerald Wallace, SF, age 29, Portland Trail Blazers
2011 stats: 15.7 ppg, 8.0 apg, 2.4 apg, 45.4 FG%, 33.3 3P%, 16.28 PER
Composite rankings (random order): 48, 33, 48
Hard to figure Gerald Wallace sometimes. I'm not sure he's ever really truly found a place in this league. Not in the sense of fitting on a roster, but just in where he lines up with other good players. He's not
just
a defender. But he's not that great of an offensive player. He's not a star you build around. But he's someone you pay almost like he is.
Wallace is an elite defender, frustrating players like
Kevin Durant
and
LeBron James
often, but he also has lit up the scoreboard. His outside touch is a bit erratic and he mainly gets it done by out working other players. He's relentless on the glass, attacks mercilessly in the paint and goes hard at his opponent non-stop. He has the talent, but has never possessed the polish. Still, he's certainly on of the NBA's top 50 players.
39. Monta Ellis, PG, age 24, Golden State Warriors2011 stats: 24.1 ppg, 5.6 apg, 3.5 rpg, 2.1 spg, 45.1 FG%, 36.1 3P%, 18.69 PER
Composite rankings (random order): 35, 48, 42

Oh, Moped Ellis. Such a talented, gifted scorer. But for many a reason, such a frustrating player. He's never seen a shot past the halfcourt line he didn't like. Efficiency isn't exactly his calling card, nor is his defense. He gambles on both ends, plays almost in his own world and takes too much responsibility offensively.
But man, once he gets going, he gets
going
. He doesn't exactly play under a defined position (Point guard? Shooting guard? I think Ellis would place himself just as "baller guard.") but wherever he ends up on a given night he's a threat to go for 40. It might come on 31 shots, but he can carry a team on his own. I wouldn't exactly say he's the type of player that
should
be better, but there's no denying his talent. He's probably about the best player he can be, or at least the player he wants to be. Above average, gifted in specific areas but nothing premier.
38. Danny Granger, SF, age 28, Indiana Pacers2011 stats: 20.5 ppg, 5.4 rpg, 2.6 apg, 42.5 FG%, 38.6 3P%, 17.89 PERComposite rankings (random order): 47, 36, 37
At a time, it looked like Indiana might have stumbled onto a true building block star. Granger was a low first rounder but broke out in 2008-09 averaging 25.8 a game. He was efficient, shot high percentages and as a result, got himself a nice little contract extension from Larry Bird.
It's not fair to say he regressed or anything -- he's been good the past two years -- but he hasn't exactly continued his trend upward toward a star player. He made one All-Star team in 2009 but since then has just been kind of in that group of "Oh yeah him, he's not a bad player." He definitely didn't step up for the Pacers in the postseason last year against the
Bulls
, fading into oblivion in the fourth quarter of virtually every game. Granger's a quality scorer and certainly a top 40 player. But it's become pretty obvious that he's not an alpha player.
37. Andrew Bogut, C, age 26, Milwaukee Bucks2011 stats: 12.8 ppg, 11.1 rpg, 2.0 apg, 2.6 bpg, 49.5 FG%, 44.2 FT%
Composite rankings (random order):
46, 35, 30
Injuries just aren't fair. Not that Bogut would otherwise be an elite center, but injuries have certainly hurt him (get it?). His 2009-10 season was off to an excellent start, as were his team, but a nasty elbow injury sidelined him for the last 13 games and the playoffs. Plus that injury greatly affected him last year.
Bogut is consistently in the top five in blocked shots each year, passes the ball well and plays his position solidly. He's never been a star type of player which is what you might expect from someone drafted No. 1 overall, but Bogut's been good. Not great, but good. He's averaged a double-double for three consecutive season -- injuries be damned -- and still turned in a decent 2010-11 despite playing with one arm. If he gets everything back to full strength, he's one of the East's top three big men. But until then, he's just an above average center.

36. Eric Gordon, SG, age 22, Los Angeles Clippers
2011 stats: 22.3 ppg, 4.4 apg, 2.9 rpg, 1.3 spg, 45.0 FG%, 36.4 3P%, 18.56 PER
Composite rankings (random order): 40, 40, 27

Honestly, 37 feels a tad low for Gordon. Last season was derailed a bit by a wrist injury for him because before it, he was off to a pretty torrid scoring pace. Remember: He's just 22. With
Blake Griffin
as the featured player and someone defenses are forced to focus on constantly, Gordon is clear to bomb away from deep, where he shot a solid 36.4 percent.
But don't think that's all he is. He's really one of the game's most underrated slashers and finishers. He's great with both hands and with his stocky, strong frame, he takes contact extremely well in the paint. I don't know if Gordon will ever be an elite scorer per se, but he's certainly a threat to average around 25 a game for multiple seasons.

35. Rudy Gay, SF, age 24, Memphis Grizzlies
2011 stats: 19.8 ppg, 6.2 rpg, 2.8 apg, 47.1 FG%, 39.6 3P%, 17.88 PER
Composite rankings: 39, 34, 33
So he was overpaid last summer. And then he got hurt. And then the Grizzlies played really, really good without him. But don't think for a second Rudy Gay isn't a pretty darn good player. He's sort of Kevin Durant lite -- long, athletic and has a pretty good outside touch. The biggest issue has always been consistency. He'll score an effortless 30 one night and then disappear the next with 12 on 4-13 shooting. There's going to be a question of how he'll respond from a major injury, but he's young and is still a centerpiece for the Grizzlies. He sits at 39 now, but there's no reason that next summer he could leap 20 spots.
34. Tyson Chandler, C, age 28, Dallas Mavericks2011 stats: 10.1 ppg, 9.4 rpg, 1.1 bpg, 65.4 FG%, 18.45 PERComposite rankings (random order): 26, 38, 39
Players like Chandler have taught us that there's a premium on defense. Before the NBA Finals, he was probably a fringe top 60 guy. But after completely shutting off the paint for LeBron James and
Dwyane Wade
for six games as his Mavs put away a title, his stock skyrocketed. He's no longer just the guy that catches oops and tries to shake the goal around just a
little
too much on a routine dunk. He's a true defensive enforcer and not just because he blocks shots. He's aggressive, smart and understands help defense as well as any big man in the league.
Chandler's not, nor has he ever been, a big offensive player. He's going to score off of oops, putbacks and easy hoops under the basket. But he's a double-double guy, a defensive stopper and someone that can impact the game -- or a championship series -- in a major way.
33. Lamar Odom, PF, age 31, Los Angeles Lakers
2011 stats: 14.4 ppg, 8.7 rpg, 3.0 apg, 53.0 FG%, 38.2 3P%, 19.50 PER
Composite rankings: 31, 31, 40
Being ranked as the 34th best overall player in today's NBA is a pretty good deal. But for Lamar Odom, that's just horribly disappointing. And that's not to say HE'S disappointing. He just won a well deserved Sixth Man of the Year trophy. But a player with his skillset, he athletic ability and his talent should easily be in the top 20. Probably the top 10.
Odom really is a one-of-a-kind. He can easily slide into three, four positions and sometimes all five positions effortlessly, plays defense, handles the ball, passes, shoots, rebounds, scores -- he's got the total package. Which is pretty stinking rare for a dude 6-10. When he was taken fourth overall in 1999 by the Clippers, people saw him as the next evolution in basketball. A point forward with the ability to do it all. And no doubt, he's always been good. But not quite as good as he should've been.
The fact he's known more for a stupid reality show than his basketball ability kind of says it all. If this were a list ranking the top 100 most gifted players in the NBA, it would be hard to keep Odom out of the top 10. But he's never really lived up to his own talent which is why he settles in at 34. Not a bad place to be, unless, well, you're Lamar Odom.
32. Kevin Martin, SG, age 28, Houston Rockets2011 stats: 23.5 ppg, 3.2 rpg, 2.5 apg, 1.0 spg, 43.6 FG%, 8.4 FTA per game, 21.46 PERComposite rankings (random order): 29, 59, 20
Who wants a guy that can routinely score 29 points on 14 shots? What's that, everyone? Martin has kind of become the overlooked scoring star, which started early in his time with the
Kings
. He's more the guy with the weird shot and skinny frame that puts up 25 a night without much resistance. Martin is that player who hits a 3 in the second half against your team and you look at the box score and see he has 32 and you think, "What the heck, I remember him scoring like twice."
Martin never quite graduated to that next level star though. Maybe it's a fault of his own, maybe it's just a lack of overall respect for what he does and how he does it. But it's hard to make a name for yourself when your calling card is 18 points on eight shots over 30 points on 22. It shouldn't be how things work, but that's just kind of the way it is.
31. Marc Gasol, C, age 26, Memphis Grizzlies2011 stats: 11.7 ppg, 7.0 rpg, 1.7 bpg, 52.7 FG%, 16.88 PER
Composite rankings (random order): 41, 32, 26

Here's how you know Marc Gasol has gone from forgotten little brother to a top NBA big man: It's a legit question to ask if he's better than Pau. And not just in a whispered way. It's truly a toss up now.
With him and
Zach Randolph
tag-teaming inside for the Grizzlies, Memphis went on an improbable run not just into the playoffs, but well into May before bowing out in seven games to Oklahoma City. Gasol's numbers won't blow you away -- 11.7 points, 7.0 rebounds per game -- but it's more about what you see. You see a gifted center that is developing into a go-to option on the block. You see a center who has played just three seasons and is only 26 getting better game-by-game. You see a center that could potentially be All-Star material soon.
I don't really know where to place Gasol's ceiling (15 points, 10 rebounds?) and while he's probably not as good as brother Pau -- and may not ever be -- the fact we're even wondering tells you enough about why he's in the top 35.