Posted by Ben Golliver.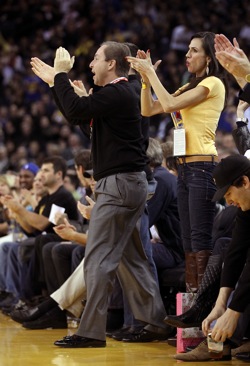 Mama, there go those men to the unemployment line.
MercuryNews.com reports
that the Golden State
Warriors
are taking another major step in an organizational overhaul under new owner Joe Lacob by replacing a number of top-level executives on the team's business operations side.
In recent days, Lacob has, in his words, "relieved" most of the team's existing VP- and senior-VP-level business-side executives. Basically, including team president Robert Rowell, most of the senior business side executives Lacob and Peter Guber inherited in November are now out.

The only exceptions: The top staffers in the sales department. Lacob said that he is now searching specifically for a team president (until one is hired, Lacob is acting as president) and a VP for marketing.

"In the end, all senior positions are or are being replaced except for our sales area," Lacob said.
It's been a very active year for the Warriors, who replaced coach Keith Smart with Mark Jackson, sacked Rowell, brought on Jerry West to serve as a basketball operations consultant and hired agent Bob Myers to serve as the team's assistant GM.
As with any internal matter, it's difficult to assess the decision-making and logic behind moves like these. However, the timing makes sense. That Lacob didn't completely clear house as soon as he took over was smart, as that impulse could have sunk the organization's ability to operate on and off the court last season.
Taking care of the basketball operations side first also makes sense. An NBA organization can survive with an average or slightly below average business side; without a strong basketball operations department, though, the organization's revenue-generating potential will never be reached. The sharpest accountant or the best budget-trimmer in the world is only going to be the lipstick on a pig for a perennial lottery team.
Now, with a year to have learned the ropes, a basketball operations department assembled in his mold and a lockout to buy him some time, it makes sense that Lacob and company would choose this summer to undertake a retooling or streamlining of the business side of his organization.