Posted by Ben Golliver.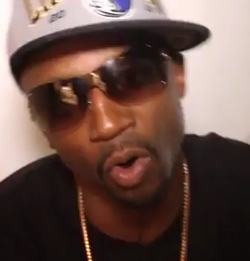 To the winners go the spoils, and
Jason Terry
is basically living out that adage Willy Wonka style after helping the Dallas
Mavericks
defeat the Miami
Heat
in the 2011 NBA Finals.
Terry minced no words during the series, wondering aloud whether Heat forward
LeBron James
could guard him and, and he took another shot at James
back in July
.
Now, via
IAmAGM.com
, comes a new look for Terry: a rap video cameo.
Dressed in a black t-shirt, gold chain, sunglasses and a Mavericks hat cocked a bit to the side, Terry plays hype man during the filming of a video for a track by rapper Young Jeezy. The song, titled "Win", has an easy-to-remember chorus: "Win. Win win. Win Win. Win. Win win." Yes, repeating the same word is easier than finding a rhyming word and it still produces most of the desired auditory effect.
Anyway, in the video, a pool game breaks out and the camera gets trained on Terry, who apparently is not a shark and recently lost a friendly wager.
"Lose. Lose, lose," Terry says, mimicking the song's chorus. "I feel like LeBron and them right there."
Laughter erupts from the background, as it should.
Here's the video
courtesy of YouTuber use OGxKushington
.