Posted by Ben Golliver.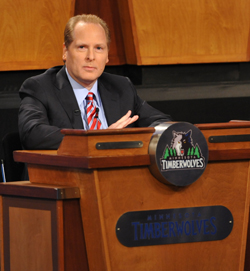 Not all criticism is created equal.
Harsh words from a credible critic are more painful than the shouts of a drunk in the street and a tough assesssment from one's professional peers and mentors trumps both by a country mile.
That's why the following passage from a
Yahoo! Sports piece
on Basketball Hall of Fame inductee Tex Winter is so difficult to read. Winter, of course, is the longtime assistant coach of Phil Jackson and father of the Triangle Offense, a revered offensive system based on ball and player movement that the Chicago
Bulls
used to win six titles in the 1990s and the Los Angeles
Lakers
used to win five more in the 2000s.
The GM of the Chicago Bulls during their 1990s dynasty was Jerry Krause. He, arguably better than any other executive, understood what it took to make the triangle offense, a rarely duplicated system, produce championships on the NBA level. Krause won the NBA's Executive of the Year award twice and oversaw a franchise that secured more rings than any other in the modern era of the game.
So what did this premier authority think when he saw the Minnesota
Timberwolves
and president David Kahn attempt to implement the triangle with former Jackson assistant Kurt Rambis?
"But when you take on the triangle, you have to have your whole organization geared toward it. It takes a very specific kind of player to play in it. I saw the Minnesota guy [GM David Kahn] hire [Kurt] Rambis, after he took two players in the draft who couldn't possibly ever run the triangle. I have no idea if Rambis is a good coach or not, but [Kahn] screwed him right off the bat."
Brutal drive-by. Put simply, it took Krause, the expert, just seconds to realize what it has taken Kahn more than two years: the personnel didn't fit the system and a head coaching change was necessary. That paragraph is the equivalent of Pablo Picasso attending your child's elementary school class and telling little Bobby that he has no chance of making it as a painter.
The players Krause seems to be referring to are 2009 NBA Draft picks
Ricky Rubio
and
Jonny Flynn
. Both players are best with the ball in their hands; Rubio has played abroad for the last few years and Flynn, who was recently traded to the Houston
Rockets
, is more of a pick-and-roll specialist who admitted to struggling with the principles of the triangle.
By way of comparison, the 1995-1996 Chicago Bulls won an NBA record 72 games; the Minnesota Timberwolves have won a combined 78 games over the last
four
seasons.