Posted by Royce Young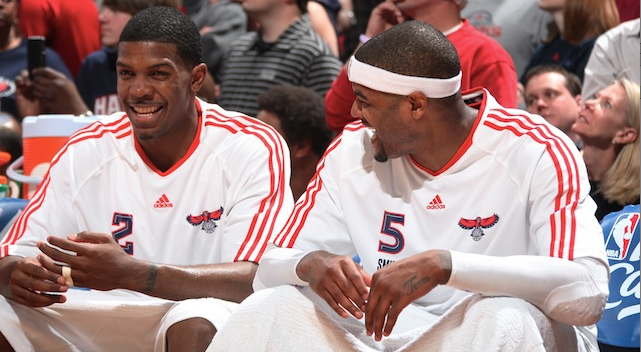 This is the sixth segment of the CBSSports.com Eye on Basketball Elite 100, counting down the top-100 players in the NBA.
Check out the earlier installments: 100-91 | 90-81 | 80-71 | 70-61 | 60-51
Once you break the top 50, you start getting good players. Former All-Stars, solid veterans and some up-and-comers. But the top 40, that's when you start breaking into some legit talent. The all-time 3-point king. A superbeard. An overpaid "star." A blossoming star point guard and a scoring savant. There are frustrating talents, disappointing stars, aging vets and a couple young studs that could jump 20 spots by next year.
As such, we march on towards No. 1 with 50-41.
50. Tyreke Evans, SG, age 21, Sacramento Kings
2011 stats: 17.8 ppg, 5.6 apg, 4.8 rpg, 40.9 FG%, 14.46 PER
Composite rankings (random order): 69, 49, 45

After winning Rookie of the Year in 2009-10, big things were expected from Tyreke Evans. Sure, he didn't quite have a position and the Kings weren't exactly committing either way in that regard, but he was a super-talented player that could score, pass and create.
One problem for him though in 2010-11: his foot. Evans suffered through plantar fasciitis for most of the season which caused him to miss a bundle of games -- 25, in fact -- while hampering him in the 57 he did play. He was never entirely totally himself. He'd have nights where he looked like the guy that tore teams up as he walked to the Rookie of the Year, but then you could just see how the injury nagged him. A good 2010-11 and Evans is probably in our top 40, maybe even top 30. Next season will be a big chance to bounce back for him. He's likely locked into a position as
Jimmer Fredette
will take over point guard duties and if he gets healthy, he'll settle right back in to a scorer/creator role for the Kings. And maybe a top 40 spot.


49. Ray Allen, SG, age 36, Boston Celtics2011 stats: 16.5 ppg, 2.7 apg, 3.4 rpg, 49.1 FG%, 44.4 3P%, 16.42 PER
Composite rankings (random order): 49, 41, 63

It feels a little funny to have the NBA's all-time 3-point shooter sitting on the back end of the top 50. But that's what tends to happen when you get to the twilight of your career.
Funny thing about Ray Allen though: He might've had one of his best seasons last year at the age of 36. He shot a career-high 44 percent from 3, averaged an extremely efficient 16.5 points a game and did his usual thing of nailing big shots and backbreaking 3s. His game changed when he went to Boston. He wasn't the gunning shooting guard going for 25 a night anymore. But that was by design. He fits into a role and a system and he's reaped the rewards of that. He doesn't have a ton of time left, but if last season was any indication, he's going to put some serious distance between himself and No. 2 on the all-time 3s list before he's done.
48. Luis Scola, PF, age 31, Houston Rockets2011 stats: 18.3 ppg, 8.3 rpg, 2.5 apg, 50.4 FG%, 18.43 PERComposite rankings (random order): 44, 51, 57
Did you know Luis Scola has finished in the top 12 in scoring for power forward each of the last two seasons? I realize that's kind of a specific measure, but here's my point: Scola is really a pretty solid power forward.
He's easy to forget because he doesn't do a lot of anything that's flashy. He scores with tremendous touch and footwork. Nothing is really above the rim and nothing is really that eye-catching. It's a simple game, but it's ridiculously difficult to defend. He is a routine threat to go for 20 and when that soft little midrange jumper is happening, he's a serious problem.
47. Luol Deng, SF, age 26, Chicago Bulls2011 stats: 17.4 ppg, 5.8 rpg, 2.8 apg, 46.0 FG%, 34.5 3P%, 15.58 PER
Composite rankings (random order):
42, 64, 44
The second best player on a team that just finished with the best record in the Eastern Conference should be higher than 48th, right? Seems so, but really, this is exactly where Deng fits. He scores just enough, is a premier defender, rebounds well and just kind of fills his spot.
But the Bulls needed more from him to advance past Miami in the Eastern Finals last year.
Derrick Rose
was often forced into being The Option for Chicago and it was always expected of Deng to do a bit more than just wait for an open look. On some nights, he would. Others, it was a quiet 14 points on 10 shots. It's probably not fair to expect more from him because that's not who he is. Instead, he's a quality role player that can give you points on a given night, but isn't that second option. Or at least he shouldn't be.

46. James Harden, SG, age 21, Oklahoma City Thunder
2011 stats: 12.2 ppg, 2.1 apg, 3.1 rpg, 1.1 spg, 43.6 FG%, 34.9 3P%, 16.42 PER
Composite rankings (random order): 45, 63, 41

If only these were beard power rankings. Because Harden would be the cream of the crop.
But 47th isn't a bad spot for him. He just wrapped up his second season and to some, he's was a disappointment for about three-fourths of his two years, mainly because he was selected third overall. But you've got to realize what Harden walked into. He was an All-American scorer from Arizona State that stepped on to a team that went on to win 50 games in his first season. He has come off the bench virtually every game for these two seasons. He has had to figure out where he stands alongside
Kevin Durant
and
Russell Westbrook
.
And as he showcased after
Jeff Green
was dealt to Boston and in the postseason, he's definitely Oklahoma City's third member of a potentially evolving new Big 3. The idea of him is that he's a
Manu Ginobili
type player and really, that's pretty accurate. He passes, handles and can score. He fits into a role instead of trying to force his way into every offensive conversation. He's a wonderful compliment to Westbrook in the backcourt and with Durant on the wing. Next season he should start from day one, which could mean Harden rockets up this board 10 or 15 spots. He's trending upward and catching attention and it finally has a lot more to do with his game than the outstanding beard.

45. Josh Smith, PF, age 25, Atlanta Hawks
2011 stats: 16.5 ppg, 8.5 rpg, 3.3 apg, 1.6 bpg, 1.3 spg, 47.7 FG%, 19.31 PER
Composite rankings (random order): 32, 37, 69
Talk about an infuriating talent. Josh Smith is 6-11. He runs the floor like a guard. He leaps like he's LeBron. He has long arms, a great build and by all appearances, should be one of the most uniquely gifted players in the league.
And yet as we saw last playoffs, he loves to hover outside and launch jumpers. The audible noise from Philips Arena every time he did said it all. It was one giant collective sigh as Smith pulled the ball up to fire from 20.
Thing is, he got it under control to some degree during the 2009-10 season. He went from shooting over a 3 a game to just 0.1. The official tally was 87 attempts to seven. That's a real effort to get shot selection under control. But then last season, he took 154 3s. So much for that.
In terms of straight numbers, he had a good 2010-11, because he really did. But it's about operating efficiently and in a way that helps your team win. I'm not sure Smith did that consistently last year. He's a top 20 talent that plays like a top 60 guy. Hence the 46th overall ranking I suppose.
Here's something that might blow your mind though: Smith is still just 25.
44. Joe Johnson, SG, age 30, Atlanta Hawks2011 stats: 18.2 ppg, 4.7 apg, 4.0 rpg, 44.3 FG%, 29.7 3P%, 16.46 PERComposite rankings (random order): 43, 39, 54
Not too many guys making $120 million a year -- more than
Dwyane Wade
or
LeBron James
got last summer -- should find themselves on the fringes of the top 50. And I can't decide whose fault that really is. It isn't Joe Johnson's fault the Hawks overpaid drastically for him. What was he supposed to say? No thanks, I'm not worth that much?
But it's also not the Hawks fault that Johnson has never really realized his talent. Johnson seems to play his way or the highway. When he wants to isolate in the post, he's doing it. When he wants to launch a questionable 3, he's doing it. When he wants to stand harmlessly on the wing and fade into oblivion for an entire second half, he's doing it. It's a reason Johnson has always frustrated fans which led him to being booed by Hawk fans during the 2010 playoffs. Some worried if that would scare him away from Atlanta as he was to be a free agent that summer.
Nope. Because the Hawks offered him $120 million. Not too hard to endure a few boos when you're making that kind of paper.
43. Stephen Curry, G, age 23, Golden State Warriors
2011 stats: 18.6 ppg, 5.8 apg, 3.9 rpg, 48.0 FG%, 44.2 3P%, 19.46 PER
Composite rankings (random order): 38, 46, 46
I want to see Curry play a season without
Monta Ellis
in the backcourt next to him. I really want to see what Curry's completely capable of as a featured player. Because right now in Golden State, it's hard to figure where he fits or what his job is. I
think
he's the team's point guard, but I'm not really sure. Some nights he plays like he is, other nights he's the go-to scorer. Maybe that's by design or maybe it's a flaw within the roster structure.
Regardless, Curry has one of the most seamless strokes in basketball. It's just so very, very pure. When he lets a jumper fly, he's one of those guys you're convinced it's dropping through. It feels like he doesn't miss. He's undersized, sure, but that's never held him back in terms of ripping up defenses.
He's pretty overwhelmed defensively, which is one big reason he's not higher up. But in terms of offense, he's a borderline savant. He was born to score and that's exactly what he does.
42. David West, PF, age 30, New Orleans Hornets2011 stats: 18.9 ppg, 7.5 rpg, 2.3 apg, 50.8 FG%, 20.51 PERComposite rankings (random order): 37, 42, 51
I don't know if West's seemingly low ranking even has as much to do with last season's injury as you might be guessing. Yes, he suffered a devastating knee injury that could affect his career going forward. But that probably only dropped him 7-10 spots or so. West's a very good player, no doubt. But really when you start getting into the top 40 players, it's hard to really justify West being in front of a lot of those guys. Is he better than
Lamar Odom
? Better than
Marc Gasol
? Better than
Rudy Gay
?
I've always kind of had to wonder too if West simply rode the good fortune of having
Chris Paul
get him the ball too. How much better did Paul make West? All those 18-footers West has drilled -- how many came as a result of Paul drawing the defense and making it happen for him? Not to take anything away from West because he's a top power forward for sure, but I get the feeling people will say, "Forty-three!?! That's WAY too low!" Maybe it's the injury stuff or maybe it's just that West isn't a truly elite player.
41. John Wall, PG, age 20, Washington Wizards2011 stats: 16.4 ppg, 8.3 apg, 4.6 rpg, 40.9 FG%, 15.85 PER
Composite rankings (random order): 50, 45, 34

I don't get the sense Wall will be staying anywhere near the 40s for long. His rookie season would've grabbed a lot more attention if it weren't for that mammoth dunking over cars out in Los Angeles. Looking at his year -- 16.4 points and 8.3 assists per game -- that's pretty darn good for a rookie point guard. Especially considering he was dealing with a mostly dysfunctional roster and teammates that may or may not have been told they were playing in the NBA.
Wall's place is temporary so really, it's more of a question of where he's going to eventually end up rather than where he sits currently. Is he going to be on the level of Rose and Westbrook? I absolutely think so. And if that's the case, in another year or two Wall will likely have carved out a spot at the table in the top 15. Point guards are making big jumps in their third seasons nowadays. And that's still another to go for Wall. Somehow he found himself overlooked a bit last year but as he progresses and trends more toward the top 20 and maybe top 10, he'll have plenty of attention.