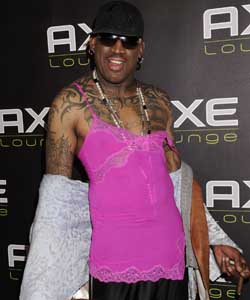 By Matt Moore
Dennis Rodman has mellowed with age. He's not as over-the-top, even if he does do or say some outlandish things. He's matured, and his behavior has mutured with him. His induction to the Hall of Fame Friday should be a classy affair that shows the true side of a complicated player and one of the best rebounders of all time, and should give Rodman a platform to show just how classy he can be.
Ha! Just kidding. It's Rodman. Come on.
The
Miami Herald
reports:
The lighter side: Aventura's Dennis Rodman told us Tuesday he will arrive at his Basketball Hall of Fame induction Friday by helicopter. He wanted to enter the Hall on a colorful float, "but they wouldn't let me block off the street" in Springfield, Mass.

He said he will hire acrobats to perform and "a couple of my outfits will be 'out there.' Whatever might be too zany is not too zany." His marketing agent, Floyd Ragland, said Rodman is spending $60,000 to fly in Penny Marshall, Howard Stern and other friends. Phil Jackson is Rodman's presenter.
via
UM clarifies cornerback situation; Dolphins' RB picture takes shape - Sports Buzz - MiamiHerald.com
.
As good, or, depending on how you see it, as bad as Michael Jordan's induction speech was, Rodman's has to be the most highly anticipated, if only because you have absolutely no way to predict how far out there he will go.
Acrobats? Who wakes up in the morning and is like "Wait, I got it. You know what my Hall of Fame induction needs? Acrobats. And since I can't charter a float, I'll get a helicopter. Get me Howard Stern!" Answer: Dennis Rodman.
There are questions about whether Rodman
belongs in the Hall
based off his lack of offense. And, just as readily, there are those who want to defend the inclusion based on his non-scoring contributions. It's become very popular to pretty much throw out the ability to score in analysis and just focus on defense, rebounding, and efficiency, as if actual points scored don't matter in a game decided by comparative number of points. But even beyond the question of non-offensive roleplayers in the Hall is this, Rodman could score. He took less of a scoring role over time and his percentages were terrible, but after watching a
Pistons
game from Rodman's early years with Detroite recently, I was surprised by his ability to finish in transition and to collect clean-up buckets. Rodman elected to move his career more towards those compimentary things, realizing he could be elite in those areas versus possibly just solid in several if he tried to diversify. In short, he chose to be a roleplayer, a supporting guy, and those players are just as important as flashy players. That Rodman did them better than anyone before or since should really only cement his status in the Hall, not justify it. Rodman could do many things. He chose to do important ones.
Like ride in helicopters with acrobats.