Posted by Royce Young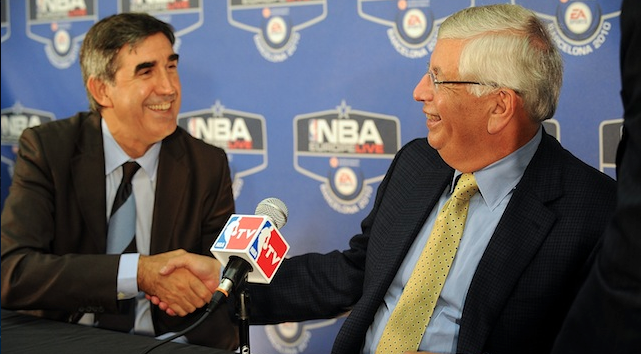 There hasn't exactly been a mass exodux overseas for NBA players, especially those currently under contract. The biggest name of course has been
Deron Williams
signing with Besiktas, but names like
Kobe Bryant
and
Kevin Durant
have been dangling lately as well. Not to mention
Dwyane Wade
,
Dwight Howard
and a few other big names that have expressed serious interest in competiting in European leagues if the lockout causes the NBA to miss games.
There could be a small problem with that though.
As told to SI.com
, Euroleague president Jordi Bertomeu does not anticipate Euroleague teams signing NBA players currently under contract.
"Our clubs need to have stable rosters," Bertomeu said via a translator. "They need to know how long they will be able to employ the player. No team will sign a player for only two or three months, or for an uncertain period of time. This is our forecast."
FIBA, who is basically the international basketball governing entity, recently ruled NBA players under contract could compete overseas and then return to their respective team if the lockout is resolved midseason. Bertomeu, however, wasn't exactly thrilled with that ruling.
"When FIBA decided to say that the transfer [of NBA players] will be valid only until the lockout will be over, it was strange," Bertomeu said. "Never in the FIBA history has there been any condition like this. This is very strange.
"We were asking FIBA for their position since the month of May, pending the official announcement of a definitive lockout," he continued said. "The day after the NBA lockout announcement, FIBA should have stated their position. And it took a month. Obviously, since May until now, [the delay] could have been because they were talking with the NBA."
Obviously just because Bertomeu is opposed or doesn't see something happening, doesn't mean NBA players actually won't play in Europe. But with a lot of sketicism following all of these star rumors, it does lean toward a major NBA name playing in Europe during the lockout. What a Euro team would get from it more than anything is just a little marketing. People have already been chattering about Besiktas a bunch in the past couple weeks and that's just because big names have been attached to them. It sounds good for the club, its fans and its sponsors.
But is it actually good for a European club to sign an NBA player for a two months? Probably not. As Bertomeu notes, roster stablility is key as well as organic growth of players. Signing Deron Williams for a few games doesn't exactly encourage growth in terms of talent. Bertomeu's job is to ensure the league stays healthy for the next 20 years, not the next couple months.
NBA players want to keep that steady income though and if that's only available in Europe, that's where they're going to go. It might not be ideal for the league, but that's not going to stop anything. China's pro league recently made a decision to not allow NBA players to return midseason for exactly what Bertomeu is saying.
All of this is contingent on the negotiations though. I've got a plan: Settle a new CBA so we can forget all this extracurricular Euro will-he, won't-he junk. Sound good?