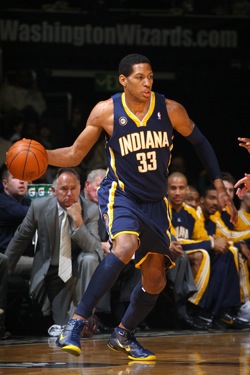 By Matt Moore
The Indiana
Pacers
are working on building off of momentum. They made the playoffs and gave a good show against the
Bulls
. With
Darren Collison
,
Paul George
,
Roy Hibbert
, and
Danny Granger
, and now adding
George Hill
, they're in a position to look for a player to get them to the next level. In an interview with the
Indianapolis Star
, Danny Granger, resident Indiana star, Granger identified several free agents he'd like to see added to the team, and these aren't exactly value pick-ups. He wants the big guns.
Q: Free agency will be a lot shorter once the lockout ends. What area do you guys need to address most?

GRANGER: I think with what's on the market at power forward, we have the opportunity to go get one of them. David West, Nene and Carl Landry are available. There are some good power forwards out there. I think we need to be deeper at that position.
via
Q&A: Pacers' Danny Granger frustrated with NBA lockout | The Indianapolis Star | indystar.com
.
West has been linked with the Pacers in the past,
as has Landry
. Nene is widely thought to be joining a contender if he doesn't return to Denver in a mega-deal. These are all bigger names, along with
Glen Davis
that make up a strong power forward free agency class.
It's notable that Granger
played 18 percent
of his minutes last season at power forward, and that
Tyler Hansbrough
proved to be a suitable option at the position. Granger's public support of an upgrade doesn't speak well to Hansbrough keeping the spot. Of course, how much money Herb Simon will want to commit to the team given its eight-seed status isnt' known at this point, nor is it known how much money will be available for the Pacers to spend under the new CBA, of course. But Granger's comments do speak of the direction of the Pacers, or what Granger thinks it should be, which is a move away from youth and towards veterans that can help them contend.