Posted by Ben Golliver.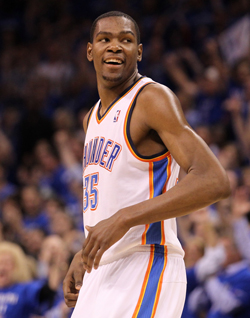 Could the NBA's scoring champ be headed to Turkey?
On Tuesday night, HoopsHype.com
translated a Turkish report
that stated Aaron Goodwin, agent for Oklahoma City
Thunder
All-Star forward
Kevin Durant
, had recently met with officials from Besiktas, a basketball club in Turkey.
Shortly thereafter,
ESPN.com reported
that Goodwin confirmed the talks had taken place and said that he is looking for multiple places for Durant to play in the event the ongoing NBA lockout results in a work stoppage that compromises the 2011-2012 season.
Agent Aaron Goodwin told ESPN.com on Tuesday night that he has met with officials from Turkish club Besiktas and has likewise begun exploring opportunities for Durant in Spain and Russia. Goodwin added that playing in China is not something Durant is considering at this time.


"The Turkish option is very intriguing," Goodwin said. "We're looking at other countries as well. Kevin hasn't agreed to play anywhere yet, but we're looking for the best fit."
Besiktas, of course, is the Turkish club that
employed
former NBA All-Star
Allen Iverson
last season,
inked
New Jersey
Nets
All-Star point guard
Deron Williams
earlier this summer and has been
lustily pursuing
Los Angeles
Lakers
All-Star guard
Kobe Bryant
for weeks.
Durant led the NBA in scoring for the second consecutive season in 2010-2011, dumping in 27.7 points per game and leading the Thunder to the Western Conference Finals. In his four seasons in the NBA, Durant has two All-Star appearances to his name and was selected as the 2007-2008 Rookie of the Year.
Remarkably, Durant is still just 22 years old. He's also missed just 12 games combined in his four NBA seasons and has no major surgeries in his past. In other words, he doesn't face nearly the same risk as an older player with a longer injury history like Bryant.
On the financial front, Durant is locked into a mini-max contract that runs through the 2015-2016 season and does not have either a team or player option. The $82 million plus left on his deal -- including the $13.6 million that would be paid to him during the 2011-2012 season -- is guaranteed.
The trump consideration here could be that Durant is in the elite class of NBA stars who are so obsessed with basketball that their brains might short-circuit if they are away from the game. He's spent the entire summer touring the country, hitting the most famous streetball courts and summer leagues looking for the best run. From the outside looking in, it appears clear that he wants to play. If that's the case, one would assume he would rather get paid to play than not get paid to play. Turkey, to date, has made it clear that their chip stack is tallest.
That doesn't mean that a deal between Besiktas and Durant will go down. But this is definitely one to keep an eye on.