Posted by Ben Golliver.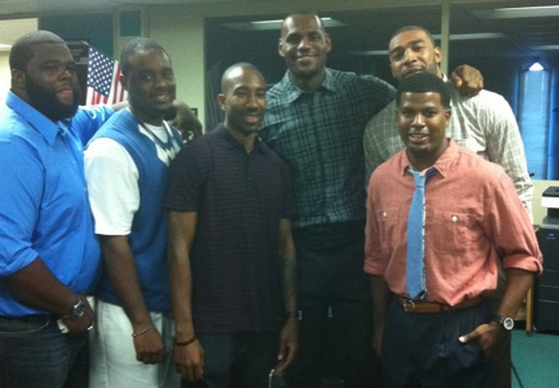 Months after missing out on his first NBA title with his South Beach cohorts, Miami
Heat
All-Star forward
LeBron James
was back home in Ohio receiving another award: induction into the St. Vincent - St. Mary High School Athletic Hall of Fame.
Cleveland.com reports
that James, along with a group of his former teammates, were inducted during a Tuesday night ceremony.
The core of the St. Vincent-St. Mary boys basketball team that won three state championships in four years will be inducted into the school's athletic hall of fame on Wednesday during ceremonies at the Akron school. School officials said LeBron James will attend the ceremony, along with his friends and former teammates, Sian Cotton, Dru Joyce III, Willie McGee and Romeo Travis.


James, Cotton, Joyce and McGee were childhood friends and played basketball together from grade school through high school. After going 27-0 and winning the Division III state championship as freshmen, they were joined by Travis during their sophomore year and went on to win two more state titles. They were Division II state champs and mythical national champs during their senior season. In the four seasons their record was 102-6.
To the right, you can see the glass arrowhead trophy commemorating the honor.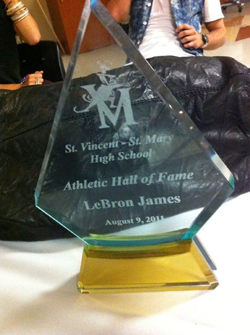 It's fair to say that no other NBA player is more deserving of this type of award. James was such a dominant player as a teenager that St. Vincent - St Mary practically became a household name, as James' games were regularly televised nationally. In addition to all the winning and television air time, a documentary movie -- More Than A Game -- and a book -- Shooting Stars -- documented James' time at St. Vincent - St. Mary.

Only prep school powerhouses like Oak Hill Academy can boast better name recognition and they have a far greater number of professional players to thank for that. James is the only member of his dominant high school team to make it to the NBA. I would even go so far as to say that more people could name James' high school than could name Michael Jordan's high school (Laney) or Kobe Bryant's (Lower Merion).

James' loyalty to the school is without question. His Twitter biography identifies him as "ST.V-M Class of 03" and makes no mention of the fact that he is an NBA player.
Top image via LeBron James on Twitter.

Side image via James' James' website team.